10 Movies You Should See This Summer
The phrase "summer movies" will never not mean broad, action-driven crowd-pleasers
to me: I counted the days until
Batman
(June 23, 1989),
Terminator 2: Judgment Day
(July 3, 1991), and
Jurassic Park
(June 11, 1993) were released. For every
Dark Knight
there are 10
Prometheuses
— and that's just among the films that are actually trying to be good — but the hype and anticipation of summer movies remains a fun spectator sport. (More fun than sports, anyway.) Here, 10 from Memorial Day weekend and after for which I have, as the song says, high hopes.
By Chris Klimek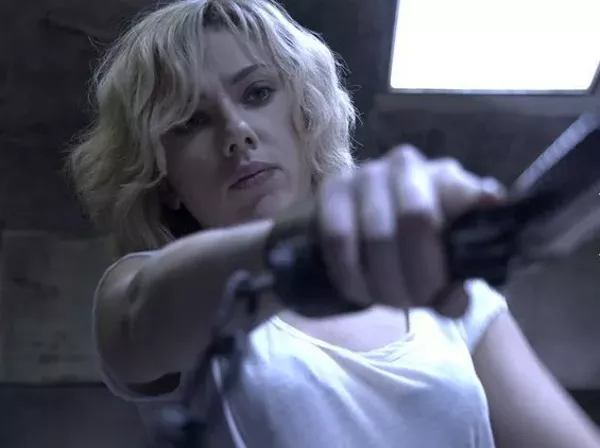 Lucy (August 8) — Six years into the glorious reign of Marvel Studios and still only vague, noncommittal rumblings about a Black Widow solo flick? Screw that. After Under the Skin — the best thing that's sauntered
X-Men: Days of Future Past (May 23) — So far, three out of four X-Men pictures have delivered the goods. This time-traveling epic melds the cast of the first three (Hugh Jackman, Patrick Stewart, etc.), set in "the not t
Edge of Tomorrow (June 6) — Eerily youthful 51-year-old Tom Cruise's second humans-vs.-alien invaders flick in two years has a Groundhog Day–like premise: Each day, his character perishes in battle trying to defend
Snowpiercer (June 27, limited release) — After a too-successful attempt to reverse global warming ushers in a new ice age, the remnants of humankind live aboard a massive train that never stops moving, and where a rigid class s
They Came Together (June 27) — Talk about kicking a genre while it's down. This fifth collaboration of director David Wain and star Paul Rudd sends up romantic comedies, positioning Rudd and the up-for-anything Amy Poehler as l
Let's Be Cops (August 13) — If any movie on this list could make Godzilla seem highbrow, it's this bro-y farce about two 30-year-old frat boys who dress as policemen for a costume party before Wackiness Ensues. Why, then
The Trip to Italy (August 15, limited) — A road movie about two past-their-prime Brits wining and dining their way through the sun-dappled Italian countryside? Only if they're Steve Coogan and Rob Brydon, reuniting with directo
Night Moves (May 30, limited) — Who knows why co-writer–director Kelly Reichardt repurposed the title of a great Arthur Penn detective movie from 1975 for her drama about environmental activists plotting to blow up a dam?
Boyhood (July 11, limited) — Writer-director Richard Linklater re-teams with his Before trilogy confederate Ethan Hawke for this story of a kid's shifting relationship with his divorced parents (Hawke and Patricia Arquet
A Most Wanted Man (July 25, limited) — Who better to direct a twitchy John le Carré adaptation set in post–9-11 Hamburg than Anton Corbijn, the photographer-turned-filmmaker who got U2 to not-smile for album covers