8 Great Western Comedies
The Western genre isn't entirely comprised of spaghetti or John Wayne talking out the side of his mouth: From its earliest days, filmmakers were putting a comic spin on stories set on the dusty trail, with the genre hitting its apex between the mid '70s and mid '80s. We've gathered this collection of comedy Westerns -- some you've seen and some you haven't -- to watch maybe after you see
Seth MacFarlane's A Million Ways to Die in the West
.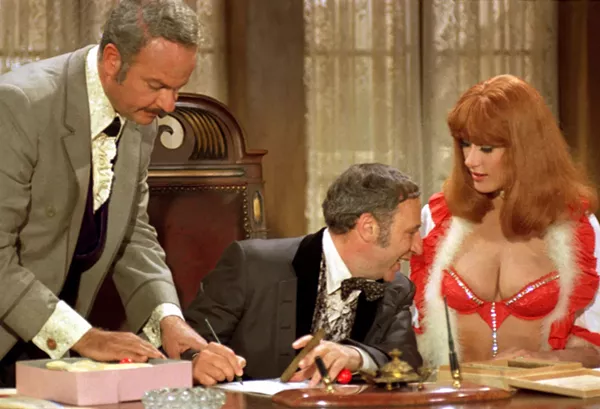 "Blazing Saddles

Released in 1974, this classic comedy takes place exactly a century earlier, in Mel Brooks's wacky, wily version of the Wild West. Throughout a hilarious plot full of fart jokes and racial tension, a conniving politici
"Three Amigos

Few comedic westerns earn the status of cult classic, but 1986's ¡Three Amigos! rightfully wears that crown. Why? In part because it was borne out of Saturday Night Live royalty. Written by frequent gu
"Goin' South

You won't see the Jack Nicholson-directed Western Goin' South on many top ten lists -- maybe because Nicholson, who looks like a drifter you'd avoid eye contact with if you passed him on the dusty trail, tries to wi
"City Slickers

If you can forgive Billy Crystal's denim-looking Mets hat and his wife's urging that he go "find his smile," City Slickers deserves to be more than a punchline about what happened to Crystal's career. In 1991, it
"Rango

Even computer-animated towns seem to have trouble keeping a good sheriff around. In Gore Verbinski's celebrity-packed 2011 Academy Award winner, the animal residents of a desert town named Dirt find a new head honcho in a chamel
"My Little Chickadee

Mae West was so annoyed that W.C. Fields got (undeserved) equal credit for writing this script about a banished woman who fake-marries a con man that she never worked with him again. It's a damned shame. What the t
"
Young Guns II
One
look at the poster
for the first
Young Guns
movie tells you everything you need to know about it: this here