Burgers Across America
In a special Village Voice Media collaborative project for Memorial Day Weekend, we're taking a look at some of the most epic, juicy burgers in this gallery of coast-to-coast burger porn. So, from Village Voice Media's thirteen papers, from OC Weekly to the Miami New Times, we present: burgers across America.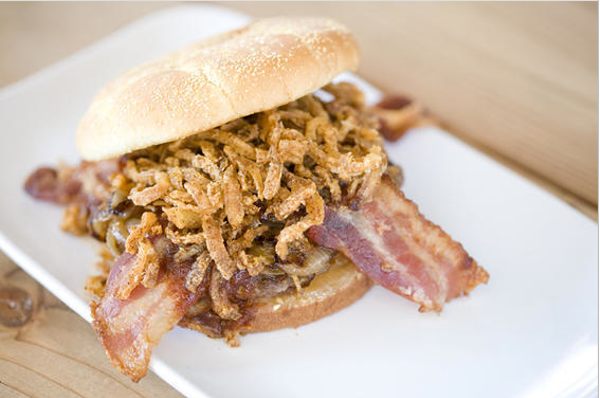 Seattle Weekly
"
Source: Seattle
Where: BBQ Smash Burger, Uneeda Burger

Seattle's
Uneeda Burger
is located in the old Uneeda Auto Repair shop and offers up a variety of b
LA Weekly
"Source: Los Angeles
Where: The Hole in the Wall
Los Angeles patty-lovers crowd the Hole In The Wall Burger Joint at lunchtime. They come for the perfect burgers, the freshly cooked fries and, most of all, the pretzel buns.
LA Weekly
"
Source: Los Angeles
Where: The Cardiac Burger, The Bucket
The Bucket in Los Angeles is probably most (in)famous for its Cardiac Burger. A heap of greasy onions and mushrooms piled atop bacon, grilled ham and two massive 1/2-pound
SF Weekly
"Source: San Francisco
Where: Maverick
The Juicy Lucy, served up at Maverick in San Francisco's Mission District, comes served with a slice of smoked gouda in the middle of the patty. This ain't no orange-cheese-injected hot dog, t
OC Weekly
"Source: Orange County
Where: The Soul Burger, The Memphis Cafe
The Soul Burger, $9.50 with fries or salad: I don't know how much "soul" the Soul Burger has, but the combination of pepper jack cheese and chipotle sauce makes this b
OC Weekly
"Source: Orange County
Where: The 50/50, Slaters 5050
The 50/50, $9.95: If you like burgers, chances are you also like bacon. Bacon on burgers is most always a welcomed addition. What about bacon combined with the beef, making for
Phoenix New Times
"Source: Phoenix
Where: The Lodge
What's better than a burger? Try a burger sandwiched between two grilled cheese...sandwiches! The Lodge in Scottsdale, Arizona has such a burger and they called it The Sasquatch. Eat this burger an
Denver Westword
"Source: Denver
Where: Park Burger
The menu at Park Burger is rife with heart-stoppingly good combinations, most of which are sure to send your cholesterol right through the roof. And while we're grateful when a companion snags bit
Dallas Observer
"Source: Dallas
Where: The Stodg Burger at the Porch
We're in love. Freshly buttered bun, aged cheddar, a fried egg and bacon. In many ways, it's a perfect comfort food, and in other ways a heart-attack. The Porch in Dallas, TX has
Dallas Observer
"Source: Dallas
Where: Maple & Motor
This isn't a burger with foie gras, or special mayonnaise. It's a simple, fresh, grill-seared burger with a tower of lettuce, tomato and onion. The right amount of everything. Last we checked, t
May 2011: Month in Photos »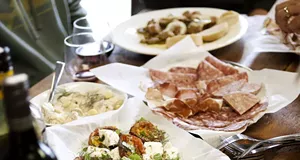 « Salume Beddu
Newsletters
Never miss a beat
Sign Up Now
Subscribe now to get the latest news delivered right to your inbox.