January 31, 2010 Slideshows
Exposed! January 2010 in Photos
Lady Gaga look-alikes, "The Situation," New Year's shenanigans, a burlesque bonanza, a JoBro in action, an MMA "fashion show" and photobombs of varying epic-ness: Here's your month-in-pictures!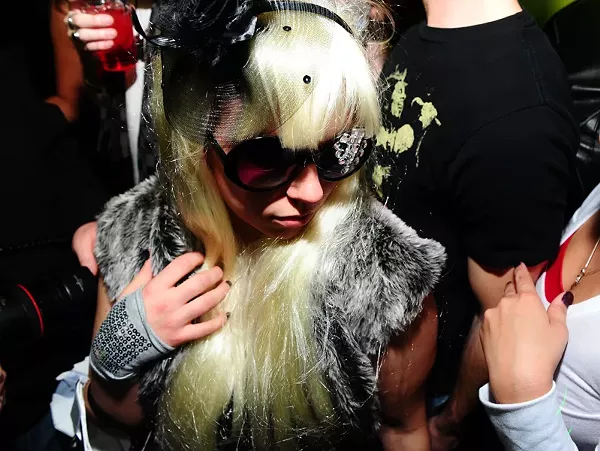 By Egan O'Keefe
Although Lady Gaga was rumored to show up at Erney's 34 Degrees bar after her show here on January 7, she didn't. That didn't stop the party from raging on and drawing out a number of impressive look-alikes.
By Crystal Rolfe
Thrill Kill Jill of the Lucky Daredevil Thrillshow on January 28 at Off Broadway. Here, she helps these two snakes get to first base.
See more photos here.
By Jennifer Silverberg
Jeff Constance oversees dishes as they make their way to the floor at Hanley's Grill and Tap, a new restaurant that occupies the former J. Buck's space in West County Center.
By Nick Schnelle
"Dance Fiasco" brought together several local DJ's to the Skatium in Lemay for a New Year's Eve party that tuckered out even the most motivated of roller-skaters.
See more photos from the S
By Egan O'Keefe
Mike Sorrento, a cast member of
Jersey Shore
, the MTV reality show that rose to perplexing levels of popularity, came to Club 15 on January 23 and was greeted by rabid fans and probably a few drunk marriage proposals.
By Egan O'Keefe
Mixed-Martial Arts fighting has evolved enough to support its own fashion styles, and on January 9, one such MMA fashion show went down at Sugar Lounge.
See more photos from the club here.<
By Crystal Rolfe
Tyler Fyre and Thrill Kill Jill make up the "Lucky Daredevil Thrillshow," a touring sideshow act that stopped at Off Broadway in St. Louis on January 28.