November 25, 2008 Slideshows
Exposed: November '08
Metallica, Laurell K. Hamilton, The American Mustache Institute, Sammy Hagar, Ludacris, Will Smith, the Presidential Election and more.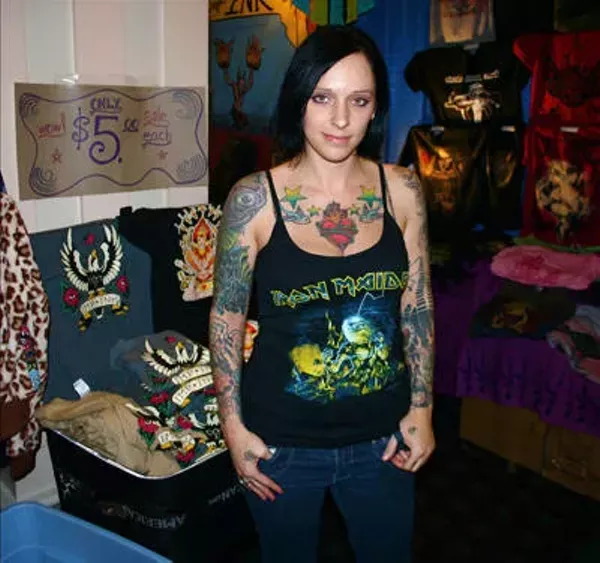 By Sarah Paradoski
You can almost hear the buzz of 100 tattoo guns whirring at the the same time. The Old School Tattoo Expo, held November 14-16 at the Holiday Inn Select.
View more old school
By Todd Owyoung
Metal Rules. More specifically, Metallica rules. If you've found yourself rocking to any of their songs over the last 20 or so years, do yourself a favor and see what you missed on November 17 at the Scottrade Center. Also included are pictures of a few
By Kristan Lieb
On November 15 in St. Louis, hundreds gathered at the Old Courthouse to protest Proposition 8, the California ballot measure that bans same-sex marriage. Here's a more blunt sentiment about the ban.
By Sarah Paradoski
The Thaxton Speakeasy -- an underground lounge in the historic Thaxton Building on Olive -- held a grand opening party on November 22. Check out
photos from the party
.
By Sarah Paradoski
OMG. NKOTB!!!!!!! A lot -- a lot -- of New Kids on the Block fans dressed like neon works of art to hail the return of the boys -- err, grown men -- to St. Louis.
Photos of
RFT Street Team
The
RFT
's Best Of St. Louis party was held on November 6 at Skybox.
More photos
.
By Sarah Paradoski
Girl, you'll be a woman soon. Neil Diamond finally played on November 2 at the Scottrade Center. Finally because the first two dates were delayed.
Check out more pics from the
By Todd Owyoung
St. Louis loves Sammy Hagar. It's a sentiment that was heard a lot 'round these parts in mid-November. The Red Rocker played two consecutive nights at the Pageant.
Photos fr
By Egan O'Keefe
What does one do when the straight bars are dead? Head to a gay bar, where the party is in full swing. That was the solution on November 21.
.
By Jennifer Silverberg
Clinic directors Kim Donica and Regina Whittington have fielded many calls from schools seeking information on HIV/AIDS. Read
By Ma'at Atkins
It's clearly a big deal when the Fresh Prince comes to town. Will Smith was in St. Louis for a premiere
Seven Pounds
.
See more photos
.
By Sarah Paradoski
"He's been on stage more than half his life, as a musician and spoken-word punk rock guru. Henry Rollins was at the Pageant on November 6.
Look at the Many Faces of Henry Ro
By Aaron Facemire
Undertow's Champaign, Illinois, branch: Adam Klavohn and Bob Andrews. Read
By Jennifer Silverberg
Laurell K. Hamilton is the Mistress of Horror. Read our November 20 feature on the St. Louis writer here:
Newsletters
Never miss a beat
Sign Up Now
Subscribe now to get the latest news delivered right to your inbox.