August 03, 2009 Slideshows
In the Street: Delmar Loop
On the first day of August 2009, we took to the Delmar Loop for a look at this summer's personal style. All photos by Egan O'Keefe.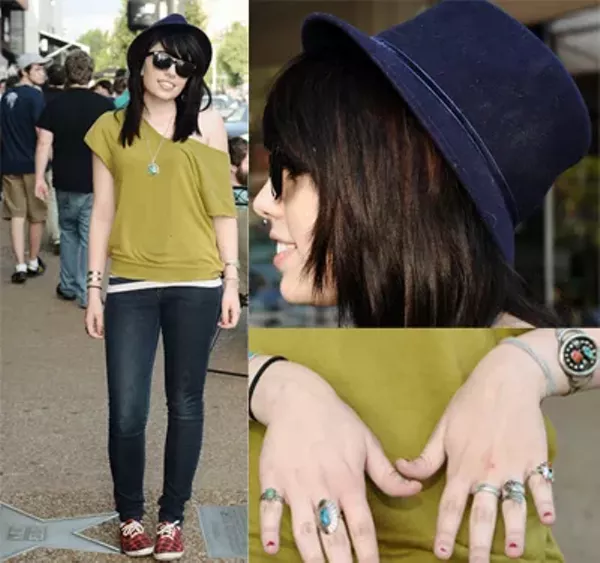 "Michelle, 19, Hillsboro, Illinois
Hat: A thrift store find for $1.50.
Jewelry: All the jewelry once belonged to her grandmother. She wears all of it at once.
Summer Style: Super laid back with basic colors. Make sure nothing match
"Rozi, 20, South City
Necklace: Purchased from Ragarama for its retro look.
Sneakers: Purchased out of town because they were touted as a foreign designer and "exclusive."
Summer Style: Go with the flow, but be original."
"Bess, 23, Shaw Park
Ring: Purchased in Chinatown, New York to replace a formerly lost lizard ring. (She doesn't have a "thing" for snakes.)
Hat:Also purchased in New York from a street vendor. She saw someone wearing it and decided sh
"Patrick, 24, Tower Grover South
Glasses: From Brooks Brothers.
Sweater: From J Crew.
Summer Style: You have to be comfortable in what you wear to make it work. But keep it classy."
"Kayla, 17, St. Peters
Necklace: Self-made and meant to represent a psychic character from a video game.
Obi: Also self-made, essential to keep the outfit closed, but also worn since the look is based off of a Japanese Shrine Maiden.
"Name: Ben, 19, Florissant
Hat: Purchased on a trip to Ireland. (Psst. Really his Mom bought it for him from Nordstroms.)
Cuffs: Despite the very trendy cuffs he's flaunting, he really just cuffed the pants to avoid shredding them.
"Brandie, 28, Dayton, Ohio
Jeans: Brand new, bought yesterday, from Forever 21. It's her first pair of skinny jeans.
Sandals: Also from Forever 21. She likes them because they seemed already broken in.
Summer Style: Breezy.
"Amanda, 29, Tower Grove Park
Hair Clip: "Day of the Dead" Bobby Pin. Purchased from the Mad Art Gallery show because she wanted a "big hardcore flower."
Bag: A thrift store find for $10. Bought because "Andy Warhol is God."
Su
"Destinie, 18, Bellefontaine
Necklace: Bought from Forever 21 because it's loud and she likes leaves.
Sweater: Also from Forever 21 and purchased because it's hot pink...and loud.
Summer Style: A mess. Whatever comes out of her cl
"Aaron, 18, St. Peters
Shirt: A $4 shirt made by a friend. One of his favorites because of the contrasting colors and that includes the orange button-down.
Accessory: the fake soul patch. His look is based on Larry Butz and he figured
"Leslie, 26, Dogtown
Skirt: From the Gap. She bought it because she likes green.
Necklace: From Moroni Island, Venice. Also purchased because it's green.
Summer Style: Bright colors."