August 31, 2014 Slideshows
National March on Ferguson Leads Protesters to Police Station
Three weeks after Ferguson officer Darren Wilson fatally shot 18-year-old Michael Brown, tensions in Ferguson remain high. As part of the National March on Ferguson on August 30, 2014, more than 1,000 people -- including Brown's father Michael Brown Sr. and mother Lesley McSpadden -- gathered near the burned-out QuikTrip on West Florissant before leading the protest march to where Brown died near the Canfield Green Apartments. After some rain, the group headed to Forestwood Park for a rally and then toward the police station, where protesters voiced frustrations to officers outside the building.
Groups in other cities held marches in solidarity with Ferguson on August 30, including in Los Angeles and Washington, D.C.
Photos by Bryan Sutter for the Riverfront Times.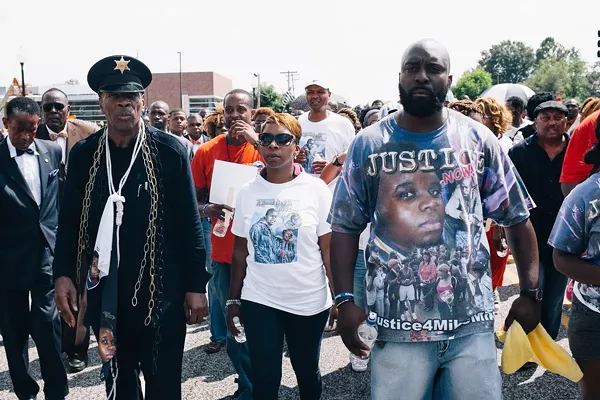 Michael Brown's parents Michael Brown Sr. and Lesley McSpadden, with activist Anthony Shahid (left).
Children examine the memorial on the spot where Michael Brown died.
The group gathers outside the Canfield Green Apartments.
Activist Anthony Shahid (with megaphone), and Michael Brown Sr. on his right.
A sudden downpour temporarily pauses the march.
Michael Brown's mother Lesley McSpadden waves, with Anthony Shahid nearby.
Ferguson police captain D. McBride (center).
The crowd gathers at the Ferguson police station.