April 10, 2014 Slideshows
Nicolas Cage's 10 Best Movie Roles
As video-on-demand continues to become the preferred route of distribution for a certain kind of independent film, much is being made of Nicolas Cage's willingness to slum for a paycheck, with recent examples including already-forgotten, small-screen-friendly items like
Seeking Justice
,
Trespass
,
Stolen
, and
The Frozen Ground
. (His character names in these projects -- Will Gerard, Kyle Miller, Will Montgomery, and Jack Halcombe -- are as interchangeable as the titles of the films.) Aside from citing the obvious appeal of doing work for money (a defense Cage himself brought up in a recent
interview
with
The Guardian
), it's also possible to back Cage by acknowledging the consistency with which he's taken on "serious" roles over the years.
David Gordon Green's
Joe
, which hits limited release this weekend (
more details on that here
), marks the latest instance of this trend, with Cage giving a reportedly subdued performance as an ex-con named Joe Ransom. In that spirit, we've put together a rundown of some of the actor's finest performances, all of which serve as proof that, though his over-the-top inclinations may make for a side-splitting YouTube compilation, Cage has amassed a career that few contemporary actors can equal. This list is hardly airtight in its exclusivity, so a few honorable mentions ought to go out to a pair of Cage's deliriously uneven auteur collaborations (David Lynch's
Wild at Heart
, Brian De Palma's
Snake Eyes
), 1983's
Valley Girl
, 1987's
Moonstruck
, and Alex Proyas's
Knowing
(a
favorite
of the late Roger Ebert).
--Danny King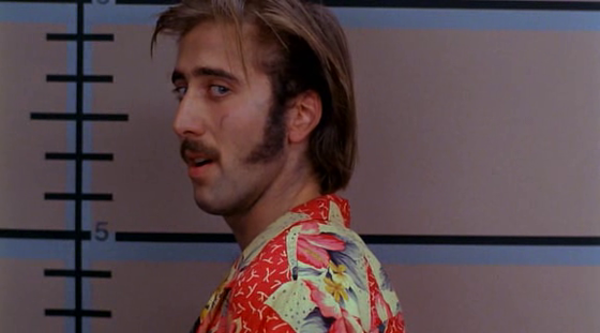 "Raising Arizona (1987)

Cage's only collaboration with Joel and Ethan Coen has remained one of the brothers' most well-liked films, a charmingly kooky response to their dead-serious 1984 feature debut, Blood Simple.
"Rumble Fish (pictured) (1983), The Cotton Club (1984), Peggy Sue Got Married (1986)

With these three Francis Ford Coppola films, Cage, a nephew of the famed Godfather director (he adopte
"Leaving Las Vegas (1995)

The performance that earned Cage a Best Actor Oscar, this is the closest thing on the list to an obligatory entry. However, though the self-loathing-alcoholic/well-meaning-hooker set-up is rather
"The Rock (1996), Con Air (pictured) (1997), Face/Off (1997)

Cage's action-movie streak hit something of a peak with this miraculous run in the mid-'90s, which had the actor collaborating with
"Bringing Out the Dead (1999)

Director Martin Scorsese and screenwriter Paul Schrader reunited for this under-appreciated gem, which, featuring one of Cage's most demanding roles, finds the actor channeling both the New Y
Newsletters
Never miss a beat
Sign Up Now
Subscribe now to get the latest news delivered right to your inbox.