December 20, 2013 Slideshows
The 13 Most Overcooked Food Trends of 2013
Here are thirteen food trends that have become ubiquitous and shed the sheen of novelty -- now they're just dull and sometimes annoying, in spite of an exciting debut.

(To keep things interesting, we've included a few food trends we hope continue into 2014 and beyond. See if you can identify which trends or innovations were welcome additions in 2013.)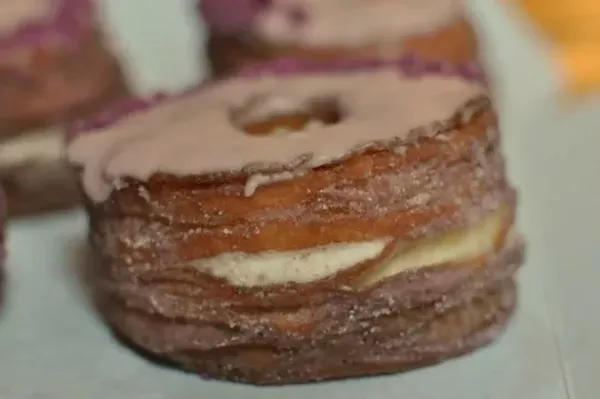 Tejal Rao
"The Cronut Craze

By his own account, Daniel alum Dominique Ansel opened a bakery because he saw gaps in New York's pastry offerings, and he was eager to expand the sweet horizons of his fellow New Yorkers. After capturing a loyal loc
Mark Manger
"Putting a Fucking Egg on Everything

This season on Top Chef: New Orleans, editor of Food & Wine magazine Dana Cowin declared that -- along with kale and bacon -- she is completely done with the "eggs over everything" tre
A. Scattergood
"
Sriracha Overload
You can almost hear the hipsters groan: "I was into sriracha before sriracha was a thing." But it's true:
Sriracha
, that spicy stuff w
Tejal Rao
"Kale

We blame the cupcake and pork years of the late aughts for our present bitter green situation -- we wanted a vegetable on our plates, too, after what felt like eons of butter and animal fat. And while we're still for produce, let
Cheryl Baehr
"Haute Chicken and Waffles

In a 2008 episode of his television show Fatherhood, Snoop Dogg took David Beckham to his favorite dining spot, Roscoe's Chicken and Waffles, for a taste of L.A.'s famous soul food. The tables w
"Foodstagramming

Foodstagramming. The fact that there's now a portmanteau for it makes my skin crawl and my iPhone shut down in protest. The word, which doesn't exactly trip off the tongue, refers, of course, to the trend of photograph
"Truffle Oil on Everything

Enough with the truffle oil. It's not bacon. It doesn't actually make everything taste better. In fact, it ruins more dishes than it improves. Did macaroni and cheese need to be improved? Was the greasy, salt
Nanette Gonzales
"Ramen Burgers

In the modern era of the food mashup, crowbarring one dish into another has become a kind of performance art, like competitive eating recalibrated from quantity to thought piece: your dinner as a Jeff Koons balloon. Some
"Kitchen Towels Standing in for Napkins

When our most forward-thinking restaurateurs began putting kitchen towels on tables instead of napkins, it was endearing. Restaurants had been cautiously making a move toward a more casual presen
"The Gentrification of Mexican Alcohol

Time was when tequila was nothing more than a punchline to country songs, a requisite at sorority parties, and the fuel for too many frozen margarita headaches to remember. And Corona, of course,
Jon Stich
"
Amy's Baking Company Makes TV a Little Too Real
By turning reality TV upside down, blowing up the Internet, and doing little to help the stereotype of ladies with cats, Amy and Samy Bouzaglo, owners of the now-infamous
"Overpriced, Pretentious Wine/Beer Pairings

I enjoy tasting menus, long lunches, and dinners that give a kitchen staff ample opportunity to demonstrate its inventiveness and technique. Of course, wine is a must with such meals. Often,
"Kickstarters

Although giving a leg up to fledgling restaurants can mean great things for chefs and diners alike, 2013 was the year Kickstarter became fair game for just about anyone with enough time and ideas. Home cooks turning their
Newsletters
Never miss a beat
Sign Up Now
Subscribe now to get the latest news delivered right to your inbox.