February 27, 2013 Slideshows
The 20 Most Tolerable Party Movies
In honor of 21 and Over, the latest party movie to hit screens, here are our 20 party movies worth watching. Some on this list are Party Movies, others are movies with a party in them. (We've arranged from least tolerable to the most tolerable.) We've thrown in the ones you know as well as a few unorthodox choices, and strangely Tom Cruise ended up here a few times, too. Ranked by Alan Scherstuhl, blurbs by Nick Lucchesi.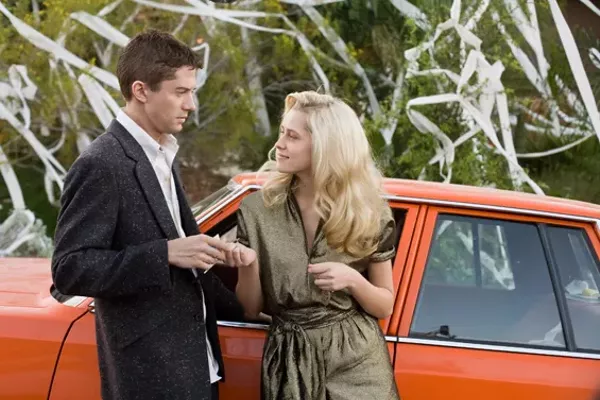 "20. Take Me Home Tonight (2011)

Starring Topher Grace (That '70s Show) and a pre-Warm Bodies Teresa Palmer, this throwback, coming-of-age comedy memorably features a Ziploc bag full of cocaine and a scene on a tramp
19. PCU (1994)

Before he was Ari on Entourage, Jeremy Piven played "Droz", a 30-something college student-alpha-male in the movie that spawned a zillion frat catch-phrases ("Chips! Chips! Chips!"). PCU also features P-Funk pla
18. Losin' It (1983)

Another retro movie -- this time it's the '50s -- Losin' It stars Tom Cruise and Shelley Long (just after she began her run on Cheers) as teenagers getting into trouble in Tijuana. Thinking about watching
17. Eyes Wide Shut (1999)

A movie with a party in it but not a Party Movie -- unless your definition party includes infidelity and a lot of orgies, which, OK. Eyes Wide Shut was Kubrick's final film, and during pr
16. Donnie Darko (2001)

Another retro movie: Fans of the cult favorite have determined this fantasy-drama took place around 1988. It includes a jet engine falling from the sky, a vortex over Donnie's house, a Halloween party and freq
© Copyright 1999 - Universal Pictures
15. American Pie (1999)

This 1999 raunch-com launched a franchise of four films that ended -- maybe? -- just last year with American Reunion. The original's gross-out scene included Jim (Jason Biggs) fucking a pie, because it was gro
"14. Bachelor Party (1984)

Before The Hangover, there was this 1984 movie, starring Tom Hanks as Rick Gassko, a man-child who decides to married. The plot goes like this:
1. Marriage proposal
2. ???
3. Honey
13. Can't Hardly Wait (1998)

100 percent of people under thirty immediately cite this as the best party movie ever. Can't Hardly Wait has Jennifer Love Hewitt getting dumped, then falling for the unorthodox nerd, which is awesome for
© 1983 Warner Bros. Ent.
12. Risky Business (1983)

The third Tom Cruise party movie on this countdown has Cruise -- just four months after Losin' It hit theaters -- as an upper-class high school student in Chicago, getting into trouble and of course, throwin
11. Weird Science (1985)

The story of Gary (Anthony Michael Hall) and Wyatt (Ilan Mitchell-Smith) and Lisa (Kelly LeBrock), who encourages and prods these nerds to have a party, in order to boost their confidence and popularity. After a roc
© Metro-Goldwyn-Mayer Studios Inc.
10. Teen Wolf (1985)

Michael J. Fox plays Scott Howard, aged seventeen, and stuck with a family curse that makes him a werewolf-like creature, but not only during full moons. In fact, Scott's seen throughout the film as the wolf, playing ba
© 2003 - DreamWorks
9. Old School (2003)

As Will Ferrell's breakout film, Old School is actually in a group of films where grown-ups act like teenagers (see: Wedding Crashers, Step Brothers, The Hangover), but its college scenery an
8. Mean Girls (2004)

Probably a movie that will forever remind us of Lindsay Lohan's wrecked life, Mean Girls shows that Lohan can (or could) fill a memorable and endearing role. Like Bridesmaids, released the better part of a
7. Project X (2012)

If you had to sum up what the Project X is like in one scene, describe the image above: A teenager doing what every teenager who's set foot on a skateboard has dreamed about, a sick ollie off the roof of someone's
6. House Party (1990)

Starring Queens-born Kid 'n Play (Christopher "Kid" Reid and Christopher "Play" Martin), this 1990 movie has one of the largest production-to-profit ratios on the list: $2.5 million to $26.3 million. And for good reaso
5. Superbad (2007)

Superbad, the Judd Apatow-produced Party Movie that helped launch the career and Jonah Hill and keep Michael Cera's post-Arrested Development one going, is most quickly remember for "McLovin", the Long Duk D
4. Sixteen Candles (1984)

One of the few party movies where the teenage protagonist is actually a teenager, sixteen-year-old Molly Ringwald (as Samatha Baker) deals with a birthday that's forgotten by her family, invasive grandparents, a sc
© 1978 - Universal Pictures
3. Animal House (1978)

The 1978 grandfather of frat-party movies, the double-secret super awesome Animal House provided the framework and reference point for all party movies that came after. Also the boobs.
2. American Graffiti (1973)

George Lucas' American Graffiti was filmed in 1972, but set in 1962 in California. Boasting a 97 percent fresh rating on Rotten Tomatoes, it was also nominated for Best Picture in '73, which it deserved: N
1. Dazed and Confused (1993)

It's not about the party, but about the anticipation of the party. And really, that's the best part of a party, anyway. That's why Dazed and Confused, and Matthew McConaughey as David Wooderson, land at t