August 23, 2012 Slideshows
The 20 Worst Hipster Bands: The Complete List
Who are these hipsters we see each day in the streets, on our Tumblr feeds, and on the local news? And why are so many in bands? It's not the mere existence of hipster groups that distresses us -- some of our best friends are hipsters, after all -- it's their lemming-like tendency to, if you'll pardon a mixed metaphor, ape each other.
On its surface hipsterdom seems to be an individuality-grab, but most of today's 20 and 30-something bands from Silver Lake and Williamsburg sound shockingly similar. They're all playing variations of retro garage and soul music -- or bringing glockenspiels and choirs on incestuous nationwide tours -- all the while clad in vintage garb likely infested with lice. We're not saying that they should be outlawed by, like, Congress or something. Just that they should be avoided. Here then, is our field guide to the worst offenders. -Ben Westhoff
This list originally appeared on West Coast Sound,
LA Weekly
's music blog. Read that version here: The 20 Worst Hipster Bands: The Complete List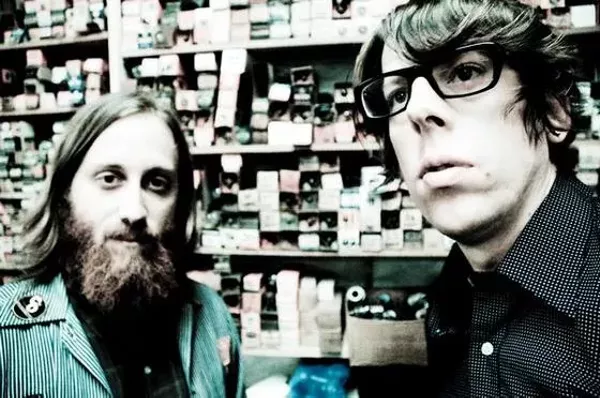 "20. The Black Keys

The guitar-and-drums "blues" punk combo thing wasn't very good even when The White Stripes did it. Still, that hasn't stopped legions of bearded, be-flanneled ersatz blues men from bringing great shame upon their ancestors
"19. TV On The Radio

Sure, TV on the Radio concocted an original aesthetic, but it was so hideous we should be glad no one thought of it before. The supposed "soul"-indie fusion of their early work is walled up by rigor mortis drum machines,
"18. Sleigh Bells

Remember in 2010, when we all lost our collective minds over these guys, with their iPod beats, garage-metal guitars and schoolyard-chant vocals? It was, like, the most original sound ever! Then the second album came out and
"17. Fun.

One could argue that fun. is not a hipster band; that the sincerity behind songs like "We Are Young" by default bars them from the title. We argue that having punctuation in their name earns this distinction by default. The stylizat
"16. MGMT

Exploiting LOLcat culture and synthy, psychedoodling indie-dance for pop crossover was such a good idea, apparently, that MGMT made it all their own. They tried to be meta about it on their big 2008 breakthrough single "Time to Pret
"15. Death Cab For Cutie

Death Cab for Cutie is the grandfather of crappy hipster bands. Singer and songwriter Ben Gibbard delivers sickly-sweet lyrics in a nerdy, nasally voice; he's overtly "sensitive" while employing nauseatingly twee tit
"14. Wavves
Wavves sound like a high school outfit exclusively influenced by "ironic" rock bands. Perhaps this is how they've become the darling of the hipster Gestapo at Pitchfork, The Onion AV Club and Spin. (And even, we admit,
"13. The Decemberists

The real Decembrists protested Nicholas I assuming the imperialist Russian throne. If you think adding an 'e' (like this band) is an ingenious play on words, you're cordially invited by Colin Meloy's cult for a "free str
"12. Pomplamoose

If you experienced the worst Christmas of your entire life in 2010, it was either because you were too broke to buy gifts, or you encountered one of three Hyundai commercials featuring the Bay Area duo Pomplamoose covering Ch
"11. Edward Sharpe and The Magnetic Zeros

This gang of overgrown children aren't just hipsters, they're hippie-sters: A double whammy of annoying that melds the folly and creepiness of a hippie cult with the semi-ironic pretension of a hipste
"10. White Rabbits

Why do bands need a second drummer? In recent years everyone from Local Natives to Bon Iver to fucking Radiohead has thrown a second kit out there, or at least a floor tom or two. If you think all that extra bashing make ba
"9. Beach House

Beach House lead singer Victoria Legrand has been compared to Nico, which makes sense in that Nico has an extremely vapid voice. A wash of down-tuned Baltimore neo-soul, it's trip-hop for people who never knew Massive Attack a
"8. The Airborne Toxic Event

They named themselves after a Don DeLillo plot device. They frequently play with a string quartet. They released a live album recorded at Disney Concert Hall. Their best-known song contains the lyric, "She's holdi
"7. Ariel Pink's Haunted Graffiti

Ariel Pink's Haunted Graffiti is the Inception of hipster bands: From the '70s sitcom synth lines to Pink's nonsensical psychedelic babbling, their music is layers of irony within irony manipulating you into
"6. Beirut

Beirut's Zach Condon? Please step into our office. It's time to talk about what it is your band does here at Rock Industries' Eclectic Division. "Ok. Um, well, you see, we take Boards of Canada..." Go on... "Then we throw it to a m
"5. Grizzly Bear

These altar boys embody everything bad about the clean-scrubbed end of the hipster spectrum. They spend more time on expensive and fastidious arrangements than choruses, which they sound annoyed to have to throw in occasional
"4. Bright Eyes

Conor Oberst has been straining to open an impossibly sealed mason jar for about 14 years now. At least, that what his singing sounds like. Between his impish whine and depressing lyrics, it's a wonder he has any fans who aren
"3. Arcade Fire

If the essence of hipsterdom is fetishizing the authentic, then Arcade Fire deserve a Canadian Nobel Prize for sucking the life out of the pop music canon. Sure, all artists build on their influences, but Arcade Fire sap the p
"2. tUnE-yArDs
tUnE-yArDs hAs a mOsT aNnOyInG nAmE and their sound isn't far behind. The group's
magnum crapus
, 2011's w h o k i l l, is a colle
"1. Bon Iver

"But the melodies! The harmonies!" You protest. Sorry, but it's time to admit that Bon Iver is the sonic equivalent of an empty canvas totebag. Worse, the Justin Vernon-fronted act is wholly indicative of our musical fall from gr
Newsletters
Never miss a beat
Sign Up Now
Subscribe now to get the latest news delivered right to your inbox.