The Bridge Tap House Sweats the Small Stuff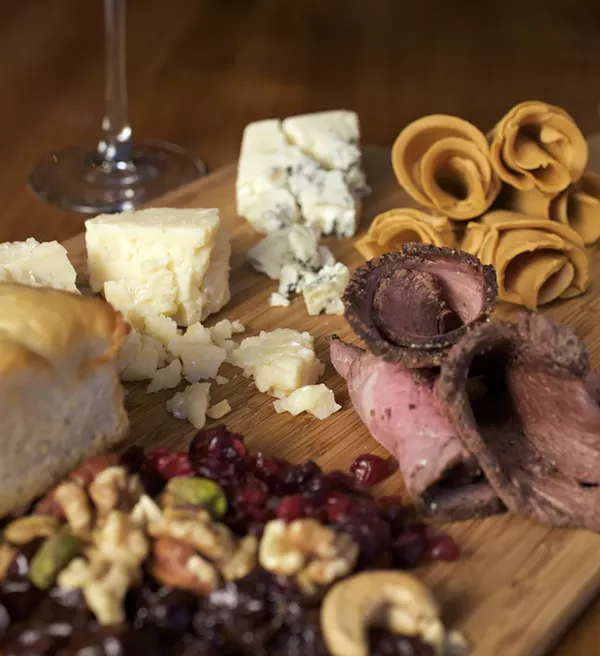 One page of the menu is a four-column chart where you select, a la carte, a cheese and charcuterie plate. Shown here is a richly nutty and sweet Norwegian cheese (on top right), Gjetost. Then, going clockwise, is a dry rubbed smoked New York strip, dried
The 10th and Locust entrance to Bridge.
Attached to Left Bank Books downtown, Bridge has been open for three months at 1004 Locust Street.
The Bridge's owner, Dave Bailey. He decided on the name "Bridge" to honor his late brother, Tom, who was a violin player. When tossing around ideas for the name, Dave deconstructed the violin, and opted for the bridge of the instrument to become the name
The Cuba, Missouri sandwich is mojo roasted pork, ham, Emmenthaler, pickles and mustard aoli.
Dave Bailey, owner of Bridge, was lucky enough to have the help of his sister-in-law and interior designer Brynne Rinderknecht, help out with the restaurant décor.
One page of the menu is a four-column chart where you select, a la carte, a cheese and charcuterie plate. Shown here is a richly nutty and sweet Norwegian cheese (on top right), Gjetost. Then, going clockwise, is a dry rubbed smoked NY strip, dried fruit
I guess those guys really liked their food.
The Arranged Cheese Board of Black Pepper Heartland Goat Cheese is served with a touch of olive oil, mixed olives, oven roasted tomatoes, toasted hazelnuts and focaccia.
Again, from upstairs, a fantastic view of that custom-made twig chandeliers.
Another item from the menu's snack section is Pickles: Pickled grapes, snap peas, haricot verts, beets, cornichons, onions, garlic, and roasted red pepper.
The view from the upstairs dining room.
On my visit, fresh flowers sit atop every table at Bridge.
On tap at the Bridge you will find 36 different beers. That number will soon increase to about 55.
The Roasted Chicken and Idiazabal Cheese is served with marinated tomatoes, red onion, wild baby arugula and a jalapeno vinaigrette.
The oven-roasted tomatoes and Herb Spätzle is served with a sweet and spicy bacon, Worcestershire-shallot sauce. Shown here with a side of the black bean salad, which comes with a red onion and cilantro vinaigrette.
The upstairs dining room had a nice lunch crowd last Friday (April 30, 2010.)
Custom-made twig chandeliers dominate the ground level décor, along with photos by Brynne's boyfriend and photographer.
From the snack portion of the menu comes popcorn, shown here in two different varieties. First is the smoked Spanish paprika and sea salt. Then, the honey, beet powder and mustard flavored popcorn.