The Fashion of Warped Tour St. Louis
Shutter-shades, neon, off-center belt buckles, street wear, lots of accessories, cowboy boots, a few local band t-shirts. Some fine specimens of STL fashion courtesy of Annie Zaleski and Anna Genoese.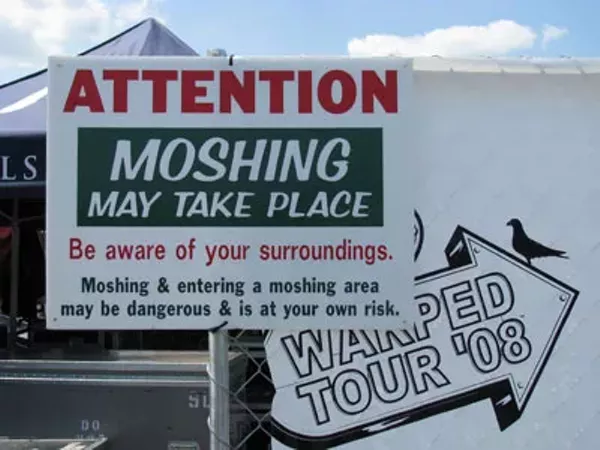 It's also a way to dust up your outfit.
Fashion-forward fans. Guys with mustaches get the ladies. Way to go, young buck.
These fans were excited for Paramore. T-shirts from that band, The Academy Is...and Cobra Starship were the big favorites this year.
One wonders how these dudes managed to get their Mohawks to keep from wilting in the heat. Temps hovered near 90. I hear modeling glue, toothpaste and a lot -- a lot -- of AquaNet helps.
Local pop-punks Fight! Fight! Fight! are on several dates of this year's Warped Tour. Bassist Jerry Rose's mom and sister show their pride.
This kid had the right idea, sporting a kilt for comfort.
This cowboy boot-wearin' dude tracked us down; he's a friend of the guy in the kilt.
Local punks the Humanoids had a fan at Warped Tour, even though they didn't play there.
Cobra Starship merch. Nearly every band had their own table with tent advertising their name and selling wares. Only if Ed Lover and Dr. Dre could see these, they would give the boys in Cobra Starship props.
All of the Fueled by Ramen Records bands -- who are notoriously good pals -- had a sign like this in between their merch tables, which were arranged all in a row next to each other.
Holly at the Tat table with a gangsta penguin.