The Tattooed Dog Serves Delicious Burgers and More in Wentzville
Chef and owner Josh Lemmon reimagined his successful Burger, INK food truck as a brick-and-mortar eatery, and the colorful vehicle is moored in the parking lot awaiting a buyer. It's an odd location for a new restaurant — its neighbors are a biker bar, an old motel and a cemetery. The interior of the restaurant is sparsely appointed, save for a mural of its menu and some local music-themed artwork. The restaurant is still waiting for its liquor license, but it's certainly not waiting for customers — I found it packed on both weekday and weekend nights.
Keep reading:
Cheryl Baehr's review of The Tattooed Dog
.
Photos by Theo R Welling for the
Riverfront Times
.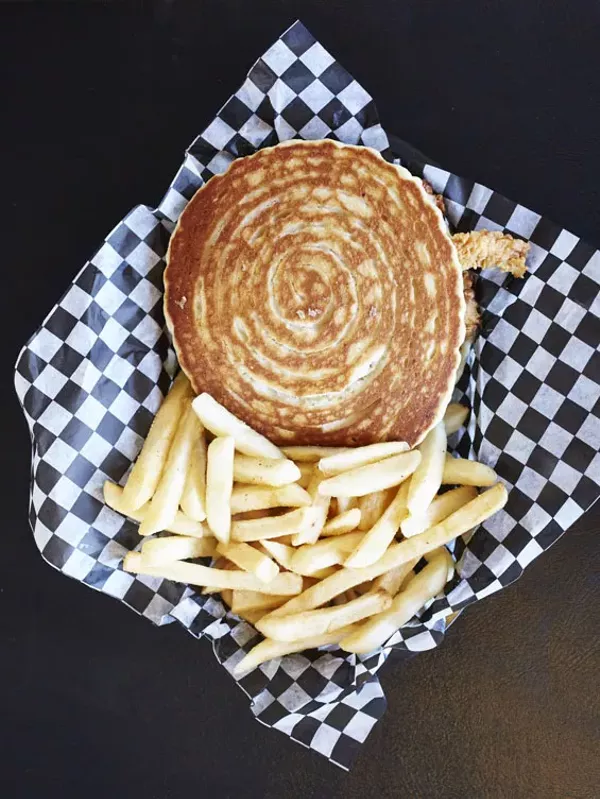 The "Hot Chicken Pancake" is fried chicken that's slathered in our hot Pepper aioli, white american cheese between Two apple Pancakes
The "Jalapener": Jalapeno jelly, roasted garlic aioli, pepper-jack cheese and spring greens on a corn-dusted kaiser
Inside Wentzville's the Tattooed Dog.
The "Maui," with grilled pineapple, white American cheese, a wasabi glaze and garlic aioli on a pretzel bun.
The the Tattooed Dog's dining room.
The the Tattooed Dog's dining room.
A waitress prepares a tray.
The Philly comes piled with thinly sliced housemade roast beef, grilled onions and peppers, Provel and horseradish creme on a hoagie served with au jus.
The house salad comes with mixed greens, cilantro, cherry tomatoes, red onions and mozzarella.
Nicole Lockey, sister of owner Josh Lemmon.
The Porkinator, complete with six pieces of bacon, American cheese and spring greens on a kaiser roll.
A burger and a hot chicken pancake.
The Farmer comes with sauteed mushrooms, goat cheese, roasted garlic aioli and spring greens on a kaiser roll.
Patrons in the dining room.
The "Dream Float," with orange soda and ice cream in a Mason jar.
Patrons in the dining room.
The blueberry roll-up comes with granola and cream cheese, then is deep fried served with valilla ice cream.
Outside the Tattooed Dog.