March 29, 2013 Slideshows
Top 20 Claustrophobia Movies
In the new film
Detour
, Jackson Alder (Neil Hopkins) finds himself trapped by a mudslide inside his car, alone. It takes intense mental control, as well as purposeful distraction, to escape that kind of claustrophobic, panic-inducing situation (
View it in iTunes
.) So should you ever be in such tight quarters, you'll need plenty of material with which to distract yourself -- such as a list of the most claustrophobic movies to ever come out of Hollywood. By Diana Clarke.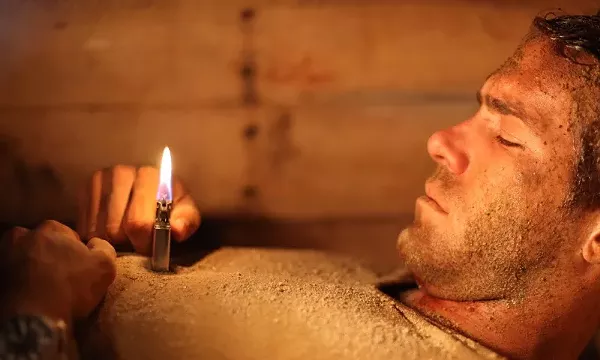 "Buried (2010):

Cocky beefcake Ryan Reynolds gets taken down a peg: In Buried, he wakes up in a wooden box, six-feet underground with only 90 minutes to escape (if you were wondering, the movie is 94 minutes). As a civilian tru
"127 Hours (2010):

James Franco plays canyoneer Aron Ralston, whose arm is pinned under a boulder in an isolated stretch of Blue John Canyon in Utah. Desperate to escape, he first tries hacking at the boulder, and then cutting his ar
"Kill Bill Vol. I (2003):

If Ralston's body was trapped, in this Quentin Tarantino film, The Bride (Uma Thurman) is trapped in her own body. The reason she decides to kill Bill is because, at her own wedding, he shoots her in the hea
"
Kill Bill Vol. II
(2004):
The Bride gets buried. But in
one uplifting scene
--
of course
-- she jabs her way out of a pine box and digs her way to the s
"The Great Escape (1963):

Also set during World War II, this film follows the true-ish story of a group of Allied prisoners (American, Polish, and British) who break out of an incredibly forbidding Nazi fortress by a laborious and se
"The Skin I Live In (El piel que habito) (2011):

Spanish director Pedro Almodovar conjures in Antonio Banderas a cold, calculating surgeon named Robert, on the cutting edge of his field, who holds captive the young woman Vera (Elena
"Snakes on a Plane (2006):

No, it's not the inescapable media coverage from the summer of 2006, or the line -- "I have had it with these motherfucking snakes on this motherfucking plane!" -- that you know whether or not you ac
"Das Boot (1981):

Rather than playing out the would-you-rather horror scenarios of other claustrophobic films, this one places a German war photographer on a U-Boat with an inexperienced crew, patrolling for Allied ships, confined by
"Cube (1997):

In this surreal Canadian psychological thriller, seven strangers are placed, inexplicably, in a complicated maze of different-colored, cube-shaped rooms, with no way out. Not just explanation and backstory, but the very
"Phone Booth (2002):

Colin Farrell plays Stu, an arrogant publicist who gets his comeuppance when he's held hostage in a telephone booth -- where, of course, he's gone to call his mistress -- by a sniper. To make matters worse, he's l
"The Divide (2012):

Another New York disaster film, The Divide imagines a postapocalyptic Manhattan, and an apartment building where a group of eight residents -- the lone survivors -- are driven to the basement to avoid e
"Panic Room (2002):

In this thriller starring Jodie Foster, a mother and her daughter (a young Kristen Stewart) hide in the panic room of their house to escape burglars who have come after hundreds of thousands of dollars in the safe
"Blackout (2008):

Claudia (Amber Tamblyn) is in the hospital to visit her dying grandmother, when a power outage leaves her stuck in an elevator with a bunch of strangers. She's so close to losing this woman, who's terribly important
"Contagion (2011):

On a tryst with an old boyfriend, Beth (Gwyneth Paltrow) contracts what she thinks is a cold, only to discover, back home with her family, that it's a pathological infection of the nervous system, and it kills her.
"Argo (2012):

In some ways it's hard to feel sorry for the American journalists under house arrest in Tehran in 1979; their host is the suave Canadian diplomat (Victor Garber) and his house is swank. But the journalists know that if
"Apollo 13 (1995):

Tom Hanks is among the crew of the first spacecraft to land on the moon, in 1969. For all the extraterrestrial adventure, the majority of the film takes place in the tiny cabin of the Apollo 13 itself, which become
"The Human Centipede (First Sequence) (2009):

The German Dr. Joseph Heiter offers to help two American tourists stranded by a flat tire -- but in a classic horror movie trope, they never leave his house. Instead, he uses them as part
"Being John Malkovich (1999):

The ceilings are getting lower, and his friends have found a back door into John Malkovich's mind. Once inside the tunnel, his friends can control him -- and once they're inside you there's nowhere left
"Enter the Void (2009):

This avant-garde French film doesn't give you the room to appreciate its artistry, instead launching you into a first-person view of neon, drug-warped Tokyo. For a city so expansive, it seems to be always pres
"Fermat's Room (2008):

This Spanish film engages in a kind of terrifying absurdity, as the mysterious Fermay invites three mathematicians and one scientist to a house under pretenses of an intellectual gathering, only to lock t