September 03, 2008 Slideshows
Top Ten St. Louis Summer Concerts
The Top 10 St. Louis summer concerts that moved us. Submit your own in the comments section.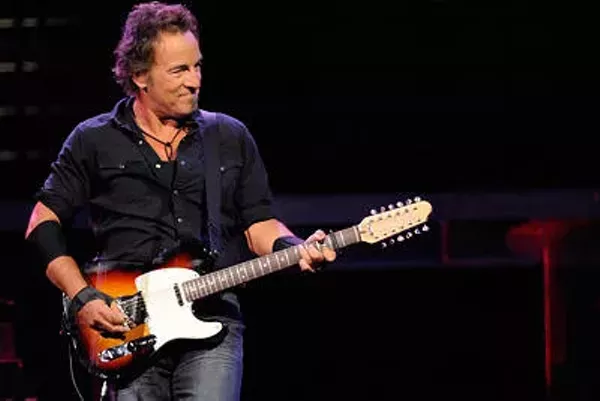 By Todd Owyoung
"BRUCE SPRINGSTEEN
Bruce Springsteen and the E Street Band performed on August 23 at the Scottrade Center. Music Editor Annie Zaleski wrote at the time, "The band then proceeded to perform an awe-inspiring three hour and fifteen minute se
By Steve Truesdell
"CRUE FEST W/ MOTLEY CRUE
Crue Fest arrived on July 20 in St. Louis and rocked us with its aggro-metal shredding. Included besides headliners Motley Crue were Buckcherry, Papa Roach and Sixx A.M. But like any summer concert, the real fun o
By Sarah Paradoski
"DOLLY PARTON
"An eleven-member band started the set, and when Dolly appeared like a glittering marionette in a flourish of purple and silver sequins for 'Two Doors Down,' the crowd stood for a rollicking start," wrote Kristy Wendt in her
By Scott Spychalski
"TOM WAITS
Writer Roy Kasten, on Tom Wait's show June 26 at the Fabulous Fox Theatre: "So if it's true that Waits last played St. Louis 30 years ago (there's apparently a photo of a young Tom on the walls of BB's Jazz Blu
By Rob Sheridan
"NINE INCH NAILS
"(Trent) Reznor channeled his rage/angst/upset into an emotionally cathartic, if not exhausting, two-hour-plus show," wrote Annie Zaleski about the Nine Inch Nails concert on August 20 at the Scottrade Center. Read more of
By Annie Zaleski
"RADIOHEAD
"Here are the facts: The band played all of In Rainbows, its latest album. Kid A was also well-represented, with a manic, squelching version of "Idioteque," a lullaby twitch of "Kid A" and the robotic paranoia
Photo not from St. Louis show.
"FOO FIGHTERS
The Foo Fighters rocked the Scottrade Center on July 20. Wrote reviewer Annie Zaleski: "The Foo Fighters' onslaught of gigantic tunes and singles – seriously, its greatest-hits CD, whenever it arrives, will be one
Photo not from St. Louis show.
"TOM PETTY AND THE HEARTBREAKERS
After Tom Petty and the Heartbreakers performed on August 7 at the Verizon Wireless Amphitheater, our review simply stated: "Tom Petty could run for president – and win – in November." Read why
Newsletters
Never miss a beat
Sign Up Now
Subscribe now to get the latest news delivered right to your inbox.