February 06, 2012 Slideshows
What to Do Alone Across America
With the exception of twins and double suicide pacts, we're born alone and we die alone. And whether you're visiting a new city by yourself or have no plans in your hometown, there's plenty of fun to be had solo.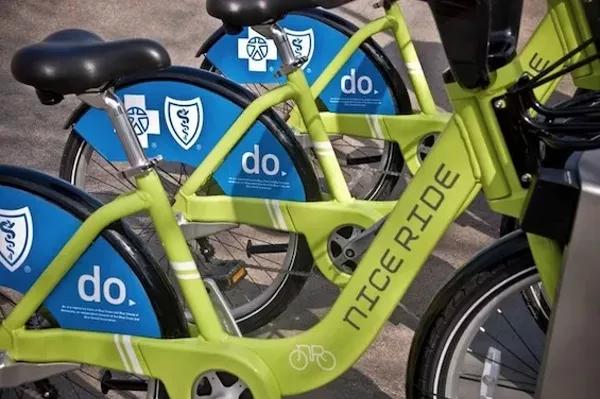 Nice Ride MN
Best known for its long winters, lakes, and to a certain demographic, as the ancestral home of Brandon and Brenda Walsh, Minneapolis is also America's
most bike friendly
city. I
Thomas Struth
Isn't man always alone? Contemplate that, and other big questions, while trying to understand the power of Mark Rothko's art at the
Rothko Chapel
in Houston, Texas.
Alexander Flores and Jose Ralat Maldonado
Nothing fights loneliness like hunger. If you're stuck in Dallas, take advantage of the local food scene, and go on a
taco crawl
.
Lauren Shockey
For those who prefer the sweet to the savory, a
cupcake tour
of Manhattan is a great way to see the city, no buddies required.
Sarah Baraba
Another great thing to do alone: Drink with two hands.
Take a tour
in the country of Anheuser-Busch or micro-bre
Kevin Lara
Actually, plenty of fun requires no small talk, like taking
surf lessons
in Orange County, California.
Brandon Marshall
Every
first Friday
of the month, Denver's Santa Fe Drive, just south of downtown and home to art galleries, performance spaces, restaurants, and bars, open its doors. The
The traditional lonely businessman's pitstop is the peep-show, but at the
Lusty Lady
, the classic views comes with a twist. The San Francisco strip club is emplo
Anna Jones
No one can tell you're alone in a movie theater, what better place to see a movie than L.A.? For Valentine's Day, local art house
Cinefamily
is showing a mash-up of the "100 Most
Ciara Osorio
"In Miami, one bar makes drinking alone a little more visually appealing.
Jimbo's
in Virginia Key, off mainland Miami, is part shanty town, part dive bar. It's where the city
Sy Bean
Why fight man's inherent inability to relate to man? Embrace your inner cat-lady at Seattle's annual
cat show
.