There's no telling what kind of crowd you can expect at a Ratatat show. Over the course of three albums and two mixtapes, the instrumental duo of Mike Stroud and Evan "E*vax" Mast has cultivated a nebulous musical identity. One minute the pair's carefully playing intertwining prog-rock fugues on its Epiphones over samples of tablas and khamaks; the next it's kicking into some heavy metal riffage over trunk-thumping club beats. Just who exactly would turn out for a show like that? (Ratatat)
According to a die-hard Flogging Molly fan -- whom I had to follow just to find the Gargoyle venue on the Wash U campus -- this Ratatat concert was loaded with a "bunch of fucking nerds" (a category that presumably included myself). But after looking at the basement corridors of the Mallinckrodt Center, more than just nerds showed up to dance. In the long line of people were pole-thin freshmen hipsters; college girls in their latest American Apparel acrobatic wear; beefy, hairy-backed bro-skis in Rex Banner jerseys and T-shirts -- and, yes, the occasional Flogging Molly fan clad in black.
Of that crowd, however, I don't think anyone was prepared for the openers.
E*Rock, the first act, strode onto stage wearing a black, hijab-style headdress; a colorful headband; and aviator glasses completely eclipsing his face. He had somehow hacked a Nintendo Wiimote and nunchuk controller to interface with his MacBook so that when he moved his wand, the programmed glitchtronica beats would apparently respond to the motion. A small crowd started dancing, but most people stood there scratching their heads. At least the visual display, consisting of flashing images of neon explosions and retro Space Invaders, managed to capture most people's attention.
(E*Rock)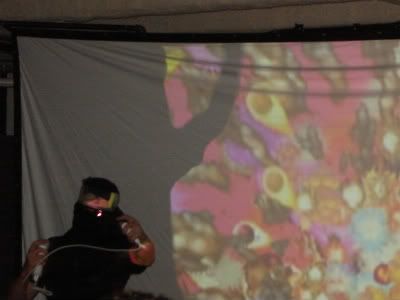 After E*Rock, people starting cramming tighter and tighter near the unventilated front of the stage -- and as the body heat index continued to rise, so did the briny scent of strangers' armpits. These folks determined to snag a good spot for Ratatat started gritting their teeth and plugging their ears as soon as Panther, a spazz-punk duo from Portland, Oregon, got down to business. Vocalist/spazz dancer Charlie Salas-Humara would scream himself red in the face about something ridiculous like Jacque Cousteau and, with the help of effects pedals, would take that scream and sustain it, loop it, and scratch it until it was the loudest, most piercing thing in the room. Some people gave up, muttering "These guys fucking suck" as they filed out to the back, while others stayed and heckled -- and a few, I suppose, probably reveled in the abrasiveness of it all.
And then we waited for Ratatat. And waited. And waited. All this time, more and more people managed to squeeze into this inconceivably small, hot space. Faces squished against strangers' backs and elbows lodged permanently into neighbors' abdomens. After about 40 minutes of waiting, no joke, people started booing. In the words of Bob Costas, the anticipation was palpable.
Twenty minutes after that episode, Ratatat finally took the stage, and the place erupted. The friction of all the bodies and the latent kinetic energy spilled over as everyone moved uncontrollably up and down, left and right, as one pulsating, dancing organism.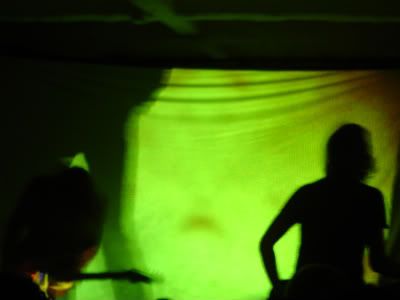 And this was just the reaction to "Bruleé," one of the mellower tracks on Ratatat's comparatively mellow new album, LP3. In the studio, the song builds on its slow dynamics with light, breezy waves of synth and crisp keyboard twinkles. But live -- with the bass loud enough to disrupt internal organs and the guitar reverb loud enough to send shivers down the spine -- "Bruleé" becomes an impressive monolith of sound.
Stroud, Mast, and their touring keyboardist/autoharpist/afro aficionado stuck with new material for the next few songs. The slow-smoldering, Mediterranean-flavored "Mi Viejo" preceded the vaguely tribal, modular "Mirando," with its Brian May-influenced guitar leads and Predator-heavy video backdrop.
Many critics seem to agree that the material on LP3 is good, but not as good as Ratatat's earlier output. But after seeing the new material back-to-back with the old, I don't know how you can still hold onto that claim. The old single "Lex" – where Stroud and Mast's riffs shoot out like laser beams over bone rattling kick-snare drums -- might get audience members to jump on one another's shoulders and pump their fists in the air, but that song sounds quaint when compared to something like "Falcon Jab," which contains infinitely more nuance and maneuverability for exotic hooks. "Seventeen Years" from the show:
The pacing of the whole set was near perfect, with the only "off" moment being "Flynn," where, due to poor mixing, all I absorbed were muffled keyboards, the slow reggae guitar spikes on the offbeat, and Chevy Chase's giant floating head from Paul Simon's "You Can Call Me Al" video.
As great as it was to be right up in front of the action – slamming against other sweaty bodies while watching projected images of religious iconography, cascading geometrical shapes and upside down eyeballs on a video screen – it was getting to be too much for me, so I moved to the back. A few other people from the front also spilled out to the back -- exhausted, drenched, and more than a few nursing collision injuries -- although the party atmosphere didn't abate; even the girls working the merch table were dancing on their chairs.
The set ended on one high note after another, first with the feral roar of "Wildcat" from 2006's Classics, and followed by this year's "Shempi," which clearly demonstrates that Ratatat learned a thing of two from its tour with Daft Punk.
The main set was an hour long -- in other words, exactly as long as the interminable intermission leading up to it. A brief encore of older material saw the appearance of a smoke machine for "Seventeen Years," the lead single from its self-titled debut – the music that brought Ratatat to the attention of nerds, hipsters, jocks, and rockers across college campuses everywhere.