DAMIEN JURADO (MySpace)
Where:
Billiken Club, 9 p.m.
Playing With:
Miles Benjamin Anthony Robinson, Theodore
Sounds Like:
"Damien Jurado has the musical baggage for a future of protracted mid-life crises, as he's known in various circles as an ex-Christian rocker, ex-emo balladeer, ex-cassette wunderkind, and an ex-found sound and feedback freak. But on the just-released
Caught in the Trees
, the 35-year-old Seattleite sees through his dour honesty for the pop craft on the other side of self-loathing. He nudges up the guitars and lets the rhythm section chug and churn toward a kind of de-glammed T-Rex release. "You must remove the skin and burn it all for fuel," he sings on "Caskets," with the rhythms urging him out of the dark. Handclaps, harmonies, piano rolls and guitar jangle aren't the sounds he's best known for, but they free up his existential predicaments long enough for his tunes to breathe through the brooding." (
link
)
-- Roy Kasten
MP3: Damien Jurado, "Gillian Was a Horse"
SCOTLAND YARD GOSPEL CHOIR (MySpace)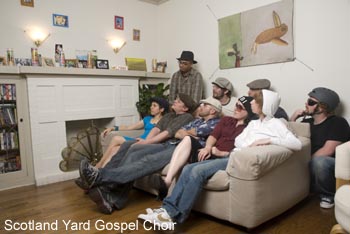 Where: Saturday at Off Broadway Playing With: Magnolia Summer, Jesse James Wax Museum Sounds Like: "At this late stage in the evolution of indie collectivism, sheer numbers are paying diminishing returns, and there's no point in asking how many instruments can be compressed into the sub-listenable particles of P2P MP3s (or how many sweaty kids can beat on shit on stage). But then comes Chicago's Scotland Yard Gospel Choir, whose self-titled 2007 album sports 50 different musicians (if you count hand clappers) and yet still sounds like a band making singles that will outlive the buzz cycles. It's the melodies, mostly, that hum along like Camera Obscura or the Magnetic Fields. But it's also Anglophilia tempered by country-folk sincerity and a sense of wonder, even when it sings about schizophrenic hospital stays, schizophrenic Christianity and schizophrenic sexuality. The band's medication is lush, artful pop, and their chemistry is deceptively sound and hopeful." (link) -- Roy Kasten
MP3: Scotland Yard Gospel Choir, "I Never Thought I Could Feel this Way for a Boy"