Ian Madden calls KSDK-TV (Channel 5) rude, intrusive and unprofessional after the station prompted a 40 minute lockdown during an investigation into school security.
"Maybe next time KSDK decides to cover something this important, they'll ensure the people the story impacts aren't too offended to listen," Madden writes for the Kirkwood Call, the high school newspaper.
See also: KSDK Investigation on School Safety in Kirkwood Reveals Journalists Are The Worst
Madden breaks the incident down by harkening back to the 2009 MTV Music Video Awards, when Kanye West intercepted the microphone from winner Taylor Swift.
Kanye's assertion that Beyonce's video for Single Ladies is among the all-time greats may be true, Madden says, but his repulsive stunt distracted from his message. So, too, did KSDK's poorly-executed undercover investigation shift the focus of the story from school security to journalistic ethics.
"Kirkwood lost all respect for the messenger, and KSDK's goal -- to communicate a crucial message -- was lost as well," he says.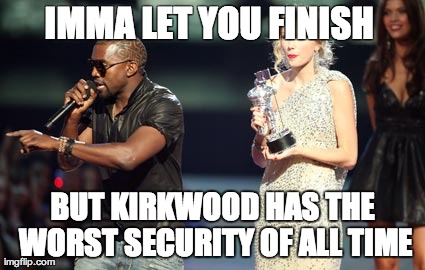 KSDK quickly apologized for the lockdown, adding it was not the station's intention to cause a real security incident. Madden characterized the apology as: "KSDK is sorry if you are offended, but here is evidence that they are right and you are wrong."
"KSDK's apology failed to address the emotional impact such a terrifying experience can have on a community," Madden says. "I only hope they addressed as a staff the potentially devastating effects of undercover reporting."
Watch the apology and the report here:
Madden's editorial offers valuable insight into the minds of students who've seen strengthened school security in the aftermath of mass shootings across the country. Kirkwood went on lockdown just last month when a custodian heard light bulbs breaking and thought they were gun shots.
See also: 9 Investigative Reports KSDK Should Work On Now After That Epic School Safety Story
The post-Sandy Hook generation seems far more aware of the threats of violence in their school than the post-Columbine generation before them, and Madden criticizes KSDK for failing to ask students how safe they feel at school as part of the investigation.
"In today's charged atmosphere surrounding school shootings and the greater likelihood that one will occur, the result of KSDK's decision to go undercover -- the lockdown -- triggered even more panic and fear than it may have several years ago," Madden says.
Follow Lindsay Toler on Twitter at @StLouisLindsay. E-mail the author at [email protected].