April 03, 2009 Slideshows
'09 Rock and Roll Hall of Fame: Clevo Rock Landmarks
This year's Rock and Roll Hall of Fame inductees include Metallica and Run-D.M.C., among others. This year, the induction ceremonies are going down in Clevo instead of NYC. Here's a look at the city's rock history and its present.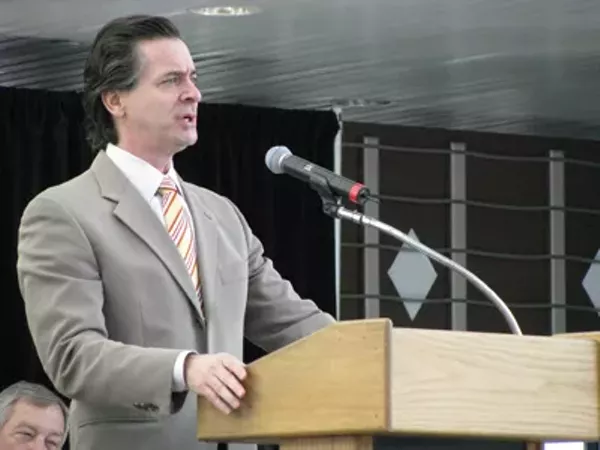 By Annie Zaleski
Rock & Roll Hall of Fame Foundation CEO Joel Peresman speaks on March 27 at the Rock Hall.
By Annie Zaleski
Walter Williams of R&B/soul legends the O'Jays listens as Cleveland mayor Frank Jackson speaks. The O'Jays – who were founded in Cleveland in 1958 as the Triumphs and, later, the Mascots-- were inducted into the Rock Hall in 2005. Hits include "Love Train" and "Back Stabbers." Other members include Eddie Levert, father of Gerald.
By Annie Zaleski
George Voinovich, the ex-governor of Ohio and currently a U.S. senator. He was mayor of Cleveland when the city found out it was to get the Rock Hall.
By Annie Zaleski
Before this year, the last time the induction ceremonies occurred in Cleveland was 1997. However, the event is reportedly set to take place in the city every three years from now on.
By Annie Zaleski
Bootsy Collins is one of many musicians with ties to Ohio. People born in the Cleveland area include Michael Stanley, Tracy Chapman and Marc Cohn. Nine Inch Nails' Trent Reznor and Filter's Richard Patrick spent formative musical years in the city, while Scott Weiland lived in nearby Chagrin Falls. Both Marilyn Manson and Macy Gray were born in Canton, which is about an hour south of Cleveland.
By Annie Zaleski
Musicians/artists are eligible to be inducted into the Rock Hall 25 years after the release of their first album. This year's inductees include metal visionaries Metallica, hip-hop innovators Run-D.M.C., soul man Bobby Womack, guitar legend Jeff Beck and R&B/doo-wop act Little Anthony and the Imperials. Wanda Jackson is being recognized as an early influence, while DJ Fontana, Bill Black and Spooner Oldham earned nods for their role as sidemen.
By Annie Zaleski
Signs from the video for Moby's song "South Side," which also featured Gwen Stefani. In the background is Cleveland Browns Stadium, where the NFL's Browns play.
By Annie Zaleski
A car prop from U2's ZOO TV tour.
By Annie Zaleski
The Rock Hall's top two levels are dedicated to comprehensive exhibits on one artist with rare memorabilia and photos on display. Past exhibit acts have included the Clash, the Doors and U2, while the newest one is Bruce Springsteen.
By Annie Zaleski
Two of Bruce Springsteen and the E Street Band's instruments: Clarence Clemons' saxophone, of course, is on the right.
By Annie Zaleski
Two guitars Springsteen used for 2006's We Shall Overcome: The Seeger Sessions.
By Annie Zaleski
A Ramones guitar.
By Annie Zaleski
The museum's groundbreaking took place in 1993. (Chuck Berry and Pete Townshend co-hosted the honors.) Designed by noted architect I.M. Pei, the museum opened on September 2, 1995. The building is right on the shore of Lake Erie, on the northern end of downtown Cleveland.
By Annie Zaleski
A sign in the back bar of the Beachland Ballroom, one of Cleveland's popular music clubs. The venue is located in an area of Cleveland known as Collinwood (which was a predominantly Slovenian neighborhood) and was built in 1950 as a Croatian social hall. The "Beach" in the name comes from now-defunct amusement park Euclid Beach, which was located just north of the neighborhood.
By Annie Zaleski
Cindy Barber, co-founder/owner of the Beachland Ballroom and Tavern along with Mark Leddy. The pair has run the venue since 2000.
By Annie Zaleski
The stage in the 500-capcity Ballroom. An adjacent Tavern holds 150 people. The Black Keys played their first show here.
By Annie Zaleski
Bottle Rockets guitarist John Horton sports a Beachland shirt at SXSW this year. He's one of many musicians who loves the club.
By Annie Zaleski
Beneath the Beachland complex is a vintage store called This Way Out.
By Annie Zaleski
The sign as you enter the Beachland.
By Annie Zaleski
Whimsical lobby stickers.
By Annie Zaleski
Next door to the Beachland is an indie store called Music Saves, which is in a building that used to be a barbershop.
By Annie Zaleski
The venue holds the occasional in-store performance, and also houses a black cat named Vinyl.
By Annie Zaleski
Exit Stencil is a Cleveland label that's released music from country-ish act the Dreadful Yawns, Pitchfork fave Blake Miller, neo-wavers Hot Cha Cha, noiseniks Roue and This Moment in Black History and throwbacks the New Lou Reeds.
By Annie Zaleski
A poster found in Zombie Proof Studios, a cozy, DIY establishment located a few floors up in a maze-like warehouse in the St. Clair/Superior neighborhood downtown. The studio generally records bands from Friday through Sunday.
By Annie Zaleski
Lawrence Daniel Caswell of noted local punk act This Moment in Black History, which has played SXSW in recent years.`
By Annie Zaleski
The 56-channel Neve console at Ante Up Audio, a hybrid studio/performing space owned by producer/engineer Michael Seifert. Ryan Tedder from OneRepublic recently finished Kelly Clarkson's latest album at Ante Up.
By Annie Zaleski
Tori Amos is one of Seifert's many clients; others include Regina Spektor, Colbie Caillat, Pimp C and Fountains of Wayne.
By Annie Zaleski
Cleveland rap superstars Bone Thugs N Harmony – including Krayzie Bone – have close ties to Seifert.
By Annie Zaleski
A permanent chalkboard list of sold-out House of Blues shows.
By Annie Zaleski
Each House of Blues venue has distinctive art that's representative of the city in which it resides. The Cleveland one contains reference to sports and, of course, rock & roll.
By Annie Zaleski
The backstage area in the House of Blues is full of graffiti left by bands who have played there. Enter Slayer.
By Annie Zaleski
B.B. King happened to be performing on this night. He was nowhere to be found, but his dressing room sign was.
By Annie Zaleski
Christian metal act Stryper was here.
By Annie Zaleski
So was Kilroy – er, Styx.
By Annie Zaleski
The Johnnie Johnson Band – yes, in reference to the late St. Louis blues master.
By Annie Zaleski
Part of the menu at the Prosperity Social Club, a cozy venue in hip neighborhood Tremont. The place hosts live music – for free! – and comfort food. Tremont is best known now for being the original stomping grounds of Iron Chef Michael Symon and his restaurant Lola.