April 30, 2013 Slideshows
10 Shot Comparisons Between the 1974 and 2013 Gatsbys
Because it was high-time for the animated GIF version of the Great American Novel. Anyone who's familiar with the 1974 version of The Great Gatsby with Robert Redford should recognize the scenes and shots from trailers for the 2013 version, which premieres May 10 with Leonardo DiCaprio. Here, in animated GIFs, are shot comparisons from the 1974 version and the 2013 version, which will be the fifth version of the Fitzgerald story. By Nick Lucchesi.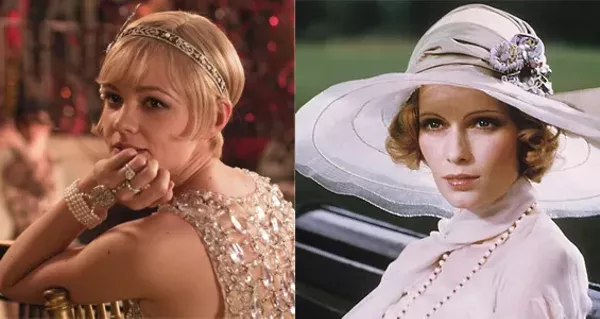 On the left, Carey Mulligan as Daisy Buchanan in the 2013 version, and Mia Farrow in the same role in 1974. Continue on for the GIFs!
One of Gatsby's parties, early in both films.
In the film version, one of Gatsby's butlers finds Nick Carraway at the party and escorts him into Gatsby's home, where the two will meet.
Gatsby's war medal, held by Nick Carraway, "For Valour Extraordinary."
Meyer Wolfsheim talks with Carraway while Gatsby makes a phone call.
Both Gatsby and Carraway waiting in Carraway's cottage for Daisy to arrive for tea.
Myrtle Wilson, left behind in the Valley of Ashes.
Crossing the bridge on the way into New York…
The billboard for Dr. T. J. Eckleburg, optometrist, just outside George Wilson's repair shop. "Blue and gigantic — their retinas are one yard high," writes Fitzgerald.
George Wilson approaches Gatsby from behind.
The green dock light shines brighter in the 2013 version.