13 Homemade "Sorry We're Closed" Signs
We've all been unexpectedly greeted with one of these handwritten signs when we try to visit our favorite restaurant, bar, grocery store or any business that's not a 24-hour mega-center. The reasons for the unexpected closure vary -- tragedy, joy, or laziness -- as does the spelling, but the personalities of the employees are as pungent on these signs as the smell of a Sharpie marker.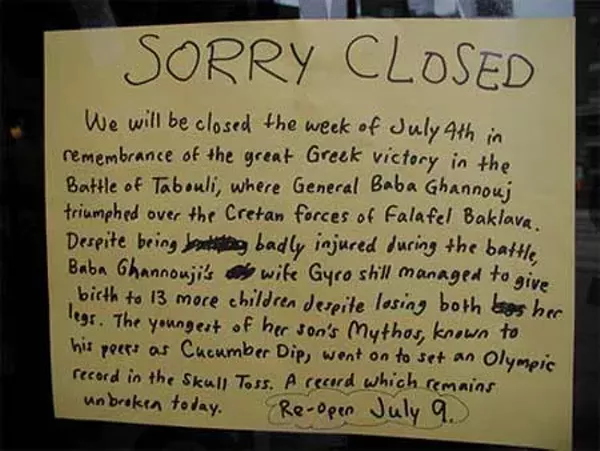 This has been dubbed the "Best Closed Sign Ever." It is pretty good.
This business at least had a sense of humor about its apparent bad reason for closing.
The joyous sign posted inside the door at Al-Tarboush Deli, also in the Delmar Loop. As you can see, the restaurant extended its hours, so it's good they still know when to take an important day off work.
For the uniformed, can someone explain what constitutes "surf damage"?
After 50 years in business, you'd be wise to overlook Gene (or Jo's) misspelling.
Hold your breath! The proprietors of this business were obviously in a hurry to get out because of the "carbon of monoxid."
Customers replied to the closing news in a variety of ways on this sign.
Everybody needs a little time off.