February 08, 2015 Slideshows
2015 Cupid's Undie Run in St. Louis
On Saturday, February 7, half-naked runners came out to be a part of the one mile Cupid's Undie Run and after party at Syberg's. The event is hosted in over thirty cities to fundraise for the Children's Tumor Foundation which helps families and individuals affected by Neurofibromatosis. This year, over $40,000 has been raised for the foundation.
Photos by Caroline Yoo for the
Riverfront Times
.
More Photos:
-
2014 Cupid's Undie Run
-
2013 Cupid's Undie Run
Lauren and Katelyn register outside Syberg's.
Runners embark from the start line of Cupid's Undie Run.
Ashley and Allison pose for a quick photo before the start of the run.
Clayton and Justin grab a couple drinks in Syberg's during the party before the run.
Jamie (pictured in the middle) is a survivor of Neurofibromatosis and although she did not run in the race, Loftin, Jamie, Richard and Judy ran on her team.
Runners pump themselves up before the run begins.
Jason smiles as he completes his run.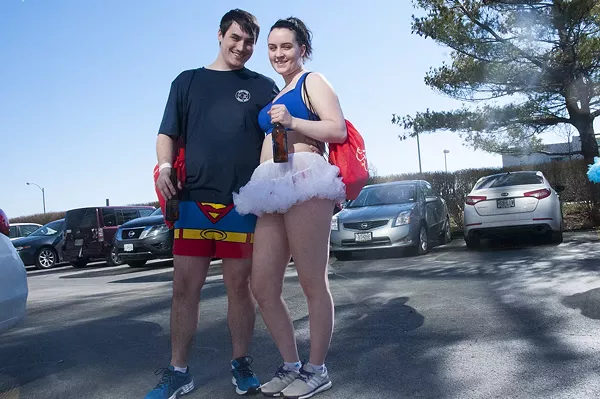 Representing Bud Light, the girls came decked out in blue, while the guys wore red for Budweiser.
Jason Sabatino works on airbrush art for a runner.
Josh and Krysta pose in front of the photo wall.
Syberg's On Market's bar was constantly busy as runners and supporters grabbed drinks before the short run.
Runners pose at Syberg's.
Runners at the start of Cupid's Undie Run.
Excited runners before the actual running begins.
Jamie, Larry, Ren and James.
Runners prepare for Cupid's Undie Run.
Superwoma raises her cape in celebration of completing her run.
Amanda and Jennifer raffled off tickets with 100 percent of the proceeds going to the Children's Tumor Foundation.
Jerry, Jason, Drew and Oliver avoiding the cold breeze.
Runners approaching the finish.
Happy runners completing the Undie Run.