Poetry Reading This Weekend
2 total results
Fri., Nov. 16, 7-9 p.m.
314 754 1850
khasler@pulitzerarts.org
Poetry Reading, Free Events, Museum Exhibits and Events
The 100 Boots Poetry Series presents readings by a range of emerging, mid-career, and established poets from St. Louis and across the US. The second event of the season features readings by poets Jen Bervin and Julian Talamantez Brolaski. Limited-edition broadsides, created by artist Sage Dawson, are available for free, and a selection of the poets' books is for sale courtesy of Left Bank Books. The event is free but guests are encouraged to arrive early due to limited seating. Free
https://pulitzerarts.org/program/100-boots-jen-bervin-and-julian-talamantez-brolaski/
Pulitzer Arts Foundation
(map)
3716 Washington Blvd.
St. Louis - Grand Center
314-754-1850
Fri., Nov. 16, 7-10 p.m.
314-320-3491
Performing Arts, Poetry Reading
Kaiserrific's IDGAF Poetry & Open Mic Friday, November 16, 2018 7pm To 10pm Legacy Bar & Grill 5249 Delmar Blvd St Louis Mo. 63108 With DJ Al Bizness Cost is $5.00 entry Featuring: Lyrique Food & Bar Available Get Your Tickets Now For More Info Call 314-320-3491 IDGAF Poetry and Open Mic is one of the hottest open mics in St. Louis hosted by poet Kaiserrific. You are in for inspiration, fun and much more. This Is An Open Mic... We Invite All Poets, Singers, Musicians, Comedians Etc! A Special Ladies Night And We Will Be Doing Some Special Giveaways. $5.00
Legacy Books and Cafe
(map)
5249 Delmar Blvd.
St. Louis - Central West End
314-361-2182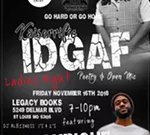 Showing 1-2 of 2 total results in this search.