Sports - Spectator Search
3 total results
Sat., May 25, 6:15 p.m. and Sun., May 26, 6:05 p.m.
Sports - Spectator
May has been kicking the St. Louis Cardinals in the teeth, at least in the early going. Most of the grumbles will cease if the team can string together some wins to end the month and get a good jump on June. This Memorial Day weekend the Redbirds play a home series against the Atlanta Braves, which is damn convenient. The two teams played in Atlanta last week and the Braves won two of three; there's no better time to snatch three wins back. The Cards and Braves play at 7:15 p.m. Friday, 6:15 p.m. Saturday and 6:05 p.m. Sunday (May 24 to 26) at Busch Stadium (700 Clark Avenue; www.stlcardinals.com). Tickets are $10.90 to $325.90. $10.90-$325.90
Busch Stadium
(map)
700 Clark Ave
St. Louis - Downtown
314-345-9600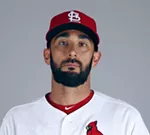 Through May 28, 8 a.m.-7 p.m.
314-442-3279
pruben@jccstl.org
Sports - Participatory, Sports - Spectator
Senior Olympics Signing Up Sportsmen – and Women – 50 or Better! The St. Louis Senior Olympics - an Olympic-style sporting event for men and women age 50 and older – will soon embark on its 40th year. The Games will be held over Memorial Day Weekend 2019 and is a highly visible and organized event with more than 1,200 participants and 300 volunteers. These amazing people are "newbies" and veterans, competitive and fun-seekers, and they join us from nearly 150 neighborhoods across 12 states! We are known as one of the premier Senior Olympics Depending on events
http://stlouisseniorolympics.org
Jewish Community Center
(map)
2 Millstone Campus Drive
Maryland Heights
314-432-5700
Sat., July 20, 11:30 a.m.-7 p.m.
314-266-2662
armfighter@highdollar.net
Sports - Participatory, Sports - Spectator
All classes run both Right and Left Handed. Pro: 0-154, 155-176, 177-198, 199-242, 243+ Amateur: 0-176, 177-209, 210+ Masters (45+): 0-199, 200+ Ladies: Open Weight Early Weigh-In's Friday 6pm-8pm @ the Venue 20% Early Registration Discount - 5/1/19 through 6/30/19 Unique, Custom Medals to Top 3 in each class 50% Cash Payout to Pro Division. Benefiting The BackStoppers, Inc. Free to Spectate
http://www.strongestbadge.com
Helen Fitzgerald's
(map)
3650 S. Lindbergh Blvd.
Crestwood/ Sunset Hills/ Sappington/ South Lindbergh
314-984-0026
Showing 1-3 of 3 total results in this search.