Sports - Spectator Search – Staff Pick
2 total results
Tue., Sept. 25, 7 p.m.
Sports - Spectator
Hockey season ended June 7 when the Washington Capitals victoriously hoisted the Stanley Cup. Barely three months later, the Capitals roll into town for a pre-season game against the St. Louis Blues, ending the interminable period between seasons. Pre-season games don't normally bring much excitement, but hockey is hockey. A couple of young guys trying to win permanent spots on each team's roster may fight and there's a chance for a surprising goal or two, but what you most want to see is complete lack of injuries. Certain Capitals players may not yet have sobered up from the summer-long celebration, so don't expect to see a lot of the big-name players playing regular-season minutes. The game starts at 7 p.m. at the Enterprise Center (1401 Clark Avenue; www.stlblues.com) and tickets are $8.10 to $144. $8.10-$144
Enterprise Center
(map)
1401 Clark Ave.
St. Louis - Downtown
314-241-1888
Tue., Sept. 25, 7:15 p.m. and Wed., Sept. 26, 6:15 p.m.
Sports - Spectator
The St. Louis Cardinals are hovering near a Wild Card slot for the playoffs, and at the time of writing the Milwaukee Brewers are the main obstacle. It just so happens that the Cards and Brewers have a three-game series here at Busch Stadium (700 Clark Avenue; www.stlcardinals.com), and it would help the home team's cause greatly if they could sweep the beer boys. It's the final homestand of the season and could be a tremendous cap to a year of surprises. First pitch is at 7:15 p.m. Monday and Tuesday and 6:15 p.m. Wednesday (September 24 to 26), and tickets are $5.90 to $254.90. $5.90-$254.90
Busch Stadium
(map)
700 Clark Ave
St. Louis - Downtown
314-345-9600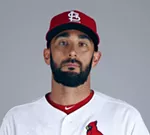 Showing 1-2 of 2 total results in this search.