Sports - Spectator Next 30 Days
3 total results
Mon., Sept. 24, 7:15 p.m., Tue., Sept. 25, 7:15 p.m. and Wed., Sept. 26, 6:15 p.m.
Sports - Spectator
The St. Louis Cardinals are hovering near a Wild Card slot for the playoffs, and at the time of writing the Milwaukee Brewers are the main obstacle. It just so happens that the Cards and Brewers have a three-game series here at Busch Stadium (700 Clark Avenue; www.stlcardinals.com), and it would help the home team's cause greatly if they could sweep the beer boys. It's the final homestand of the season and could be a tremendous cap to a year of surprises. First pitch is at 7:15 p.m. Monday and Tuesday and 6:15 p.m. Wednesday (September 24 to 26), and tickets are $5.90 to $254.90. $5.90-$254.90
Busch Stadium
(map)
700 Clark Ave
St. Louis - Downtown
314-345-9600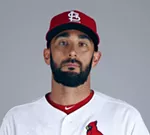 Tue., Sept. 25, 7 p.m.
Sports - Spectator
Hockey season ended June 7 when the Washington Capitals victoriously hoisted the Stanley Cup. Barely three months later, the Capitals roll into town for a pre-season game against the St. Louis Blues, ending the interminable period between seasons. Pre-season games don't normally bring much excitement, but hockey is hockey. A couple of young guys trying to win permanent spots on each team's roster may fight and there's a chance for a surprising goal or two, but what you most want to see is complete lack of injuries. Certain Capitals players may not yet have sobered up from the summer-long celebration, so don't expect to see a lot of the big-name players playing regular-season minutes. The game starts at 7 p.m. at the Enterprise Center (1401 Clark Avenue; www.stlblues.com) and tickets are $8.10 to $144. $8.10-$144
Enterprise Center
(map)
1401 Clark Ave.
St. Louis - Downtown
314-241-1888
Sun., Oct. 7, 3-6 p.m.
636-212-1471
WeAreGloryPro@gmail.com
Sports - Spectator
Glory Pro Wrestling returns to Wild Country in Collinsville, IL with HorsePower featuring the legendary PCO making his debut against Kevin Lee Davidson as well as all of your favorite Glory Pro Wrestling competitors such as Curt Stallion, Paco Gonzalez, Warhorse, Myron Reed, Gary Jay, Danny Adams, and many more ALL AGES EVENT Advance General Admission $15, Doors $20
http://gloryprowrestling.com
Wild Country
(map)
17 Gateway Drive
Collinsville/ Edwardsville
618-346-6775
Showing 1-3 of 3 total results in this search.