Classes and Seminars Next 7 Days
6 total results
Sat., Sept. 22, 11:30 a.m.-1:30 p.m.
Performing Arts, Classes and Seminars
@ Dellwood Recreation Center, 10266 W Florissant Ave, St. Louis, MO 63136
PNC Arts Alive presents Circus Harmony in the Parks FREE at Dellwood Recreation Center, 10266 W Florissant Ave, St. Louis, MO 63136, Saturday. September 22 at 11:30 AM! The show features local youth from Circus Harmony's St. Louis Arches and Peace Through Pyramids; Ferguson programs performing acrobatic, aerial, juggling and balancing feats of skill and daring! Show will be followed by a circus workshop for all ages. Run away and join the circus for two hours, for free, at Dellwood Rec Center thanks to Circus Harmony and PNC Arts Alive and where you can be part of art! Free
http://www.circusharmony.org/
Sat., Sept. 22, 10-11 a.m.
314-588-9600
outreach@gatewaygreening.org
Free Events, Nature, Classes and Seminars
Visit Gateway Greening's Demonstration Garden on Bell Avenue and learn about some of the growing techniques used in St. Louis urban gardening. This tour is open to the public, and no RSVP is required. We will start promptly at 10:00am, so give yourself time to arrive early. Please help us to continue to provide tours and other educational events around St. Louis by contributing a $5 suggested donation. $5 Suggested Donation
Sundays, 9-11 a.m. Continues through Oct. 14
636-798-2675
Classes and Seminars
Yoga, brunch and more! Experience the Zen at Chandler Hill Vineyards with yoga led by top instructors from Club Fitness. Yoga begins at 9 a.m. in our charming, tranquil vineyards. Following the yoga class, enjoy our Sunday brunch buffet at 10 a.m. Included in the price is one complimentary glass of sparkling wine. Limited availability. RSVP required. $38 per person (includes tax & gratuity)
http://www.chandlerhillvineyards.com/events-lineup.html#yoga-sunday
Chandler Hill Vineyards
(map)
596 Defiance Road
St. Charles County
636-798-2675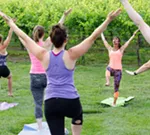 Tuesdays, 7-8 a.m. Continues through Oct. 16
Classes and Seminars, Free Events
Yoga Buzz is teaming up with Gateway Arch Park Foundation to host FREE yoga classes in Kiener Plaza. Join Yoga Buzz instructors for a rise and shine flow at the new Kiener Plaza! We will lead you through a 45-minute, all levels class to start your day off right. Enjoy some smooth tunes while you bend and breathe with the sunrise. After class, enjoy an iced coffee courtesy of Kaldi's coffee. Help Kaldi's reduce waste by bringing your own reusable cup or mug! Free
http://www.archpark.org/yoga
Thu., Sept. 27, 6:30-8:30 p.m.
618-580-5645
sarahestes.alicestable@gmail.com
Classes and Seminars, Food and Drink, Women's Events
Grab your friends for a night out at the brewery! Join us for a fun Alice's Table event at 4 Hands Brewing Co. as you learn the art of flower arranging using seasonal autumn blooms! Start off with a sample of one of 4 Hands unique brews and see what all the buzz is about. Grab your favorite brew to bring back to the table for some flower arranging fun and create your own gorgeous centerpiece that you'll take home at the end of the evening! $65
https://alicestable.com/host/profile/sarah-estes
4 Hands Brewing Co.
(map)
1220 S. 8th St.
St. Louis - Soulard
314-436-1559
Thu., Sept. 27, 6:30-8:30 p.m.
314-832-2288
classes@perennialstl.org
Classes and Seminars
@ Wellspent Brewing Co., 2917 Olive St, St. Louis, MO 63103
Join us at St. Louis's newest brewery, Wellspent Brewing Co. in Midtown for Craft Club with Perennial! Enjoy lovingly brewed beers, ales and lagers while you get crafty with friends. Perennial staff will be on-site to show you how to make two craft projects, including: Frame Organizer Wooden Mini Box Ticket price includes materials and instruction for both craft projects AND you'll receive 15% off your total tab, so get your ticket now! $8
https://perennialstl.org/event/craft-club-at-wellspent-brewing-co/
Showing 1-6 of 6 total results in this search.