Classes and Seminars Search
2 total results
Sundays, 9-11 a.m. Continues through Oct. 14
636-798-2675
Classes and Seminars
Yoga, brunch and more! Experience the Zen at Chandler Hill Vineyards with yoga led by top instructors from Club Fitness. Yoga begins at 9 a.m. in our charming, tranquil vineyards. Following the yoga class, enjoy our Sunday brunch buffet at 10 a.m. Included in the price is one complimentary glass of sparkling wine. Limited availability. RSVP required. $38 per person (includes tax & gratuity)
http://www.chandlerhillvineyards.com/events-lineup.html#yoga-sunday
Chandler Hill Vineyards
(map)
596 Defiance Road
St. Charles County
636-798-2675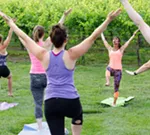 Sun., Oct. 21, 12:30-2:30 p.m.
cszstlouis@gmail.com
Classes and Seminars, Comedy
What we'll do. Four Sundays: October 21st, October 28th, November 4th & November 18th from 12:30 pm to 2:30 pm This class will help you practice the basic rules of improv, while learning games to prepare you for future performances (optional). Beginners will feel welcomed and supported while even experienced improvisers will get to polish their craft. Special deal for students & those who have ever taken an improv class... only $75 for level one!! $75 for students Register here: http://www.cszstlouis.com/tickets Wear comfortable clothing and shoes $75 - $125
https://www.cszstlouis.com
Sugar Cubed
(map)
917 S Main St
St. Charles
636-395-7365
Showing 1-2 of 2 total results in this search.