Classes and Seminars Search
2 total results
Thursdays, 7-8 p.m. Continues through Nov. 29
314-736-6414
majesticstl@gmail.com
Classes and Seminars
If you want to impress your friends the next time you go out dancing, this is the class for you! Over the course of six weeks we will break down the fundamentals of Nightclub Two Step, Salsa, and Argentine Tango. The focus will be on rhythm and connecting with your partner. No experience is necessary. If you can walk, you can dance. The cost is $130 per couple and you must pre-register. $130 per couple
https://www.majesticdancestudio.com
Majestic Dance Studio
(map)
10460 German Blvd
Frontenac
314-736-6414
Sat., Nov. 17, 7:30-9 p.m.
314-736-6414
majesticstl@gmail.com
Classes and Seminars
Our Annual Fall Showcase will be followed by an Open Dance Party with dancing, drinks, and hors d'oeuvres. We will teach two mini dance lessons at the party so friends, family, and newcomers can join in. Our maple dance floor and awesome musical variety will surely inspire you to get out on the floor. Both couples and singles of all levels are welcome! The cost is $25 per person. Please pre-register. $25
https://www.majesticdancestudio.com/events
Majestic Dance Studio
(map)
10460 German Blvd
Frontenac
314-736-6414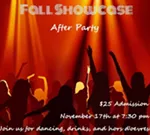 Showing 1-2 of 2 total results in this search.