Performing Arts This Weekend
6 total results
Fri., Sept. 21, 7-9 p.m.
fox@superheroinesetc.org
Performing Arts, Free Events
America. The Great Melting Pot. Regardless of current climate and politics, we live in a culture that has been built on diversity. It is a dichotomy that has allowed us to both thrive and clash in profound ways. But what happens when diversity runs through your veins? When you're caught between two cultures? Super Heroines, Etc. is thrilled to be partnering with Mixed Feelings to bring you stories from people of mixed ethnicities, cultures, and racial backgrounds. Join us for this very special edition of SHE Stories! If you have a story to tell, please contact fox@superheroinesetc.org Free
https://www.eventbrite.com/e/she-stories-mixed-tickets-48783273083?utm_source=eb_email&utm_medium=email&utm_campaign=new_event_email&utm_term=viewmyevent_button
Shameless Grounds
(map)
1901 Withnell Ave.
St. Louis - South City
314-449-1240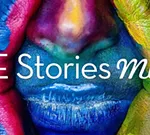 Sat., Sept. 22, 1 p.m.
Performing Arts, Museum Exhibits and Events
Basquiat was greatly influenced by jazz. Multi-instrumentalist Joe McPhee has been a force in the jazz world since the 1960s and will give an afternoon concert, adding sound to the exhibition. Presented in partnership with New Music Circle.
Contemporary Art Museum St. Louis
(map)
3750 Washington Blvd.
St. Louis - Grand Center
314-535-4660
Fridays, Saturdays, 7-9 p.m. Continues through Oct. 27
314-436-7000
theboomboomroomstl@gmail.com
Performing Arts, Food and Drink
Welcome to the home of St. Louis Burlesque!!! Join us Friday night for a dinner-show like no other!!! Dinner Von Tease is a great way to kick off the weekend with a night of fun, food, and drinks. Step into our intimate space and getaway for a few hours and kickback. A fun dinner and show is the just something different that you were looking for. Looking for a sexy date night, it's right here. A flirty night out with your bachelorette party, here we are. The best birthday celebration that won't leave you distraught, look no further. $40ish/person for dinner and show
Fridays, 10:30 p.m.-1 a.m. Continues through Oct. 28
314-436-7000
theboomboomroomstl@gmail.com
Performing Arts
Tired of the same old routine of the typical bar scene? Ready for a change and something exciting? Well look no further than our late night show here at The Boom Boom Room. Join us at 10:30 P.M. for the late night burlesque show. Your favorite performers from The Boom Boom Room will keep you entertained in this sexy burlesque show. Your the hostess with the mostest will guide you through the night while the lovely Boom Boom Bombshells and special guests will keep things tantalizing just for you! $20/person
Saturdays, 7:30-9 p.m. Continues through Nov. 19
314-707-4780
cszstlouis@gmail.com
Performing Arts, Comedy
ComedySportz is clean, outrageously funny Improv, like you've seen on Whose Line Is It Anyway, played like a sport. It's the perfect Combo of funny and Sports creating an explosion of laughter and competition on stage. We have shows every Saturday night at 7:30 pm. This is ComedySportz. Two outrageously funny teams duel it out for points and your laughs. You choose the winners… the teams provide the funny. This show is suitable for Everybody!! $12 - $15
http://www.CSzStLouis.com
Sugar Cubed
(map)
917 S Main St
St. Charles
636-395-7365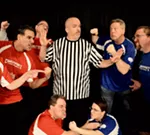 Sundays, 10 a.m.-3 p.m. Continues through Oct. 29
314-436-7000
theboomboomroomstl@gmail.com
Performing Arts, Food and Drink
Be our guest and join us for our Sunday brunch buffet, and burlesque. Two seatings available at 10 A.M. and 1 P.M. $35/person for brunch and the show. Join us for a brunch like no other. $35/person
https://theboomboomroomstl.com/tsainttlouisburlesqueshowticketshingstodoinsaintlouisfunthisweekend/beourguestburlesquebrunch
Showing 1-6 of 6 total results in this search.