Theater - Dinner Next 30 Days
3 total results
Fridays, Saturdays, 7 p.m. Continues through Nov. 3
314-664-8024
patty@lempmansion.com
Theater - Dinner
Join us for an exciting evening of murder, mystery and mayhem at the deadliest comedy dinner theater show in town. Enjoy a fantastic three-course dinner at the famously haunted Lemp Mansion and figure out who-dun-it during Dead! Like me… Death is in the air as guests join Marilyn Monroe, Babe Ruth, Juliet and her Romeo, Nixon and other grizzly ghouls as they emerge from the Land of The Dead for the annual Brotherhood of Obituary Occupants Union Meeting (That's BOO for short). Be sure to leave your pulse at home because everyone at this party is dead…even you! 52.95
http://www.lempmansion.com/mysterydinner.htm
Lemp Mansion Restaurant & Inn
(map)
3322 DeMenil Place
St. Louis - South City
314-664-8024
Saturdays, 6-9 p.m. Continues through Oct. 28
866-496-0535
stl.info@thedinnerdetective.com
Theater - Dinner
@ HoteLumiere at the Arch, 901 N 1st Street
America's largest interactive comedy murder mystery dinner show! Solve a hilarious crime while you feast on a fantastic dinner. Just beware! The killer is hiding somewhere in the room, and you may find yourself as a Prime Suspect! The Dinner Detective Murder Mystery Dinner Show performs weekly. We also offer private events & shows that are customized to your group with roles for your group members to play. Join us for a one-of-a-kind public or private event that your guests will talk about for months! $54.95
https://www.thedinnerdetective.com/st-louis/
HoteLumiere at The Arch
(map)
901 N 1st St
St. Louis - Riverfront
www.lumiereplace.com
Wed., Oct. 10, 6-9:30 p.m.
618-462-1220
jdunlap@bwpremieralton.com
Theater - Dinner
@ Best Western Premier Alton - St. Louis Area Hotel, 3559 College Ave, Alton IL 62002
Once again Lucy is trying to break into show business by getting into Ricky's new show at his Cope-With-Your-Banana Club. She tries to prove to Ricky and the owner of the club, Regis Philitin, that she can sing, dance & even do tricks. Lucy has some "splainin" to do when a well-known food critic comes to review the fine cuisine. Will he get a taste of murder or just one of Lucy's homemade brownies? Get your tickets now at the front desk of the hotel or purchase online $40.00 inclusive
http://www.bwpremieralton.com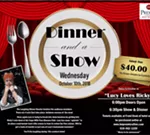 Showing 1-3 of 3 total results in this search.