Children's Events Search – Image
12 total results
Sat., Sept. 22, 10 a.m.-2 p.m.
314-822-8171
shcakouros@gmail.com
Children's Events, Festivals
Shoot a musket; throw a tomahawk! Watch folkways artisans ply their old-time skills such as basket weaving, woodworking and more. Enjoy the lively strains of the Sperreng and Truman Fiddlers and see Regency-era dancing. Pet miniature goats. And kids will have fun at the Young'uns Outpost, with a costumed passport program for craft activities. Event in coordination with Smithsonian Museum Day Live with a museum tour focus on pioneer women. Free admission and parking at Crestwood Elementary School and in the overflow lot off Reco Avenue. Phone 314-822-8171 for more information. BONUS - Big Band concert from 7-9pm, $20 adults. FREE
https://www.facebook.com/SappingtonHouseFoundation
Sappington House & Barn Restaurant
(map)
1015 S. Sappington Rd
Crestwood/ Sunset Hills/ Sappington/ South Lindbergh
314-822-8171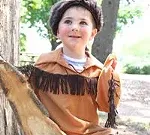 Sun., Sept. 23, 1:30-3 p.m.
314-835-6150
nthole@desperesmo.org
Children's Events
Sign up your junior ninja warrior for a .75-mile obstacle course just for kids! The participants will test their upper body strength on unstable monkey bars, trapeze and rings course. They will attempt balance and agility obstacles from Hi-NRG Gymnastics such as the spinning log, slack line, zipline and quad steps! Don't miss the chance for your kiddos to push their own limits, show off their ninja skills, and of course, have fun in a non-competitive environment! Each participant will receive a race t-shirt! Parents are required to accompany kids, ages 5-8, through the course (at no extra cost). Costumes $18/Member; $19/Resident; $22/Non-Resident
http://www.desperesmo.org/1393
Des Peres Park
(map)
12325 Manchester Road
Des Peres
314-835-6150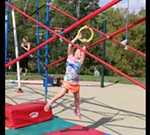 Sat., Sept. 29, 9 a.m.-2 p.m.
618-791-1398
Children's Events, Festivals
The 24th Annual Open House Wings & Wheels Fly In and Car Show will be held on Saturday, Sept. 29 at St. Louis Regional Airport on Hwy. 111 in East Alton, featuring hundreds of planes and cars. The Fly In traditionally hosts an assortment of modern Cessna, Piper and Beach aircraft, a number of ultra lights, several helicopters, and occasionally even historic planes and specialty aircraft like a glider or a hovercraft. The car show includes hot rods, antique automobiles, custom cars and motorcycles from around 4 states. On Sunday, September 30, kids ages 8-17 can return with their parents
http://stlouisregional.com/24th-annual-open-house-fly-takes-shape/
St. Louis Regional Airport
(map)
8 Terminal Drive
Grafton/ Godfrey/ Alton
888-562-9950
Sat., Sept. 29, 9 a.m.-1 p.m.
314-952-0187
colleen@pedalthecause.org
Benefits, Children's Events, Cycling
Join Pedal the Cause as we fight to end cancer! Kids ages 3-12 can help by registering for the Ameren Kids Challenge and bike on our enclosed course. $40
https://www.pedalthecause.org/ameren-kids-challenge/
Chesterfield Amphitheater
(map)
631 Veterans Place Drive
Chesterfield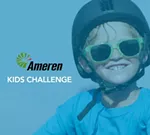 Sat., Sept. 29, 4 p.m.
314-367-6731
info@left-bank.com
Children's Events, Free Events, Literary Events
Left Bank Books welcomes bestselling children's author Jonathan Auxier, who will sign and discuss his new novel for middle readers, "Sweep: The Story of a Girl and her Monster"! This event is free and open to the public, but proof of purchase of "Sweep" from Left Bank Books will be required to enter the signing line. "Sweep" is the story of a girl and her monster by one of today's most powerful storytellers, a heartrending adventure about the everlasting gifts of friendship and hope. Free
https://www.left-bank.com/event/jonathan-auxier
Left Bank Books
(map)
399 N Euclid Ave
St. Louis - Central West End
314-367-6731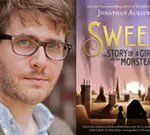 Sun., Sept. 30, 7:30-11 a.m.
Ryan.Jennings@ssmhealth.com
Benefits, Children's Events
The Sun Run 5k and 1-mile fun run supports the world-class pediatric health care provided every day at SSM Health Cardinal Glennon Children's Hospital. We care for more than 200,000 children each year, regardless of their family's ability to pay. Whether you are an experienced runner, a beginning runner or a family – we have your cure for fitness this fall. Starting and finishing at Ballpark Village, the 5k run features chip-timing from Fleet Feet Sports and the 1 mile fun run offers a casual walk. Every run / walk registrant will receive the official Sun Run t-shirt. $25 before July 6 $30 from July 6-September 9 $35 after September 9
https://www.glennon.org/sunrun/
Ballpark Village
(map)
601 Clark Ave
St. Louis - Downtown
314-345-9481
Sat., Oct. 6, 3:30-6:30 p.m.
636-537-1302
jessica.watson@wingsofhope.ngo
Food and Drink, Children's Events
@ Wings of Hope Hangar, 18370 Wings of Hope Blvd.
The Young Ambassadors of Wings of Hope are turning the Wings of Hope hangar into one of the best parties of the year with international food samples from area restaurants including Mango, Zen Thai & Japanese, El Burro Loco, The Hearth Room Cafe, Double G Ham and Viviano's Italian Deli. Plus, there will be yummy desserts from Dierbergs and Nothing Bundt Cakes, and drinks from Smoothie King. Sample beer from Granite City Brewery, Urban Chestnut, and O'Fallon Brewery. Tickets are only $30! (Kids under 12 are free!) $30
https://wingsofhope.ngo/events/taste-of-hope/
Sat., Oct. 20, 8-10:30 a.m.
info@wgsdfoundation.org
Sports - Participatory, Benefits, Children's Events
The Ivory Crockett Run for Webster features a one mile fun run/walk, a 5k, and a kid's 100 yard dash (ages 12 & under). Afterward, enjoy a post-race pancake breakfast, with activities for kids and the whole family! The Ivory Crockett Run for Webster was established in 2004. It honors Ivory Crockett, a 1968 graduate of Webster Groves High School. On May 14, 1974, Ivory participated in the Tom Black Classic held annually at the University of Tennessee. On a wet track and against world-class competition, Ivory sprinted to a world's best 9.0 seconds in the 100-yard dash, a record
http://www.wgsdfoundation.org/run-for-webster.html
Webster Groves High School
(map)
100 Selma Ave
Webster Groves
314-963-6400
Sat., Oct. 20, 11:30 a.m.-2 p.m.
618-781-4193
info@project-restore.org
Children's Events, Pets & Animals, Halloween
This October, furry, four-legged fundraisers will show off their Halloween best while helping provide educational opportunities for teens in need a world away. On Saturday, October 20, local dogs and their humans will descend on Edwardsville for Project Restore's 4th Annual Howl-O-Ween Dog Costume Parade. This annual event helps the nonprofit in its mission to address education, clean water and medical care issues in developing countries. Registration begins at 11:30 a.m. with the Parade to follow at 12:30 p.m. Cash prizes will be awarded for the pooch costume based on originality, creativity, behavior, and theme with owners. $20 to enter costume contest; free to watch
http://www.project-restore.org
Joe Glik Park
(map)
710 E Lake Dr
Collinsville/ Edwardsville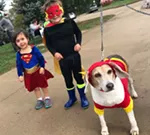 Sat., Nov. 3, 5:30-8 p.m.
314-725-8314
kkapayou@thegreencenter.org
Children's Events, Festivals, Food and Drink
Join us for our Annual Fall Fire Festival! Adult tickets are $10 in advance and $15 at the door. Children (12 and under) are FREE! Included in your ticket price: Enjoy an evening with your family and friends under the stars listening to music, watching fire performers, getting warm around a bonfire, making s'mores, visiting a professional art exhibit and MORE! Alcoholic and non-alcoholic beverages are included. A special thank you to Urban Chestnut and Schlafly Breweries for their beer donation! FOOD TRUCKS will be available onsite to purchase food. We welcome 2Girls 4Wheels AND Bridge Bread food trucks. $10 for adults (in advance), $15 at the door; Children (12 and under) are FREE!
https://www.thegreencenter.org/
The Green Center
(map)
8025 Blackberry Ave.
University City
314-725-8314
Sun., Dec. 9, 3-4:30 & 6:30-8 p.m.
636-561-7733
danceexperienceperformingarts@gmail.com
Dance, Children's Events, Christmas
Come and experience the true meaning of Christmas with the magic and beauty of The Nutcracker! In our adaptation, you can join Clara and her Prince on their magical journey to the Land of the Sweets, where your little Sugar Plum will not be able to stop dancing as she is entranced by life size toys, waltzing snowflakes, and giant candies made of dreams. It's a holiday tradition that inspires and ignites the enchanting feeling of the season. For each ticket purchased, a charitable donation is made in your honor to our favorite St. Louis' Friends of Kids with Cancer. $16.50-$20
https://www.danceexperiencestudio.com/nutcracker-home
William D. Purser Center
(map)
1851 Schoettler Road
Town & Country
636-227-2100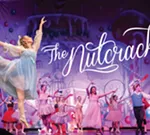 Sat., March 9, 11 a.m.-12 p.m., 1-5 & 5-6 p.m. and Sun., March 10, 1-2 & 5-6 p.m.
314-725-6555
mmack@cocastl.org
Theater, Children's Events
Tall Stories, an audience favorite from the United Kingdom, brings us a magical, musical show, Emily Brown & The Thing, based on the much-loved book by Cressida Cowell (How to Train your Dragon) and Neal Layton. One evening, Emily Brown and her old grey rabbit Stanley hear a Thing crying outside their window. He just can't get to sleep. Emily Brown and Stanley set off on incredible adventures to help the Thing get some rest! Tall Stories has become internationally recognized for its exciting blend of storytelling theatre, original music and lots of laughs. AGES 3+ $14 - $18
https://www.cocastl.org/event/emily-brown-the-thing/
Center of Creative Arts (COCA)
(map)
524 Trinity Ave.
Delmar/ The Loop
314-725-6555
Showing 1-12 of 12 total results in this search.