Children's Events Next 7 Days
2 total results
National Blues Museum
(map)
615 Washington Ave.
St. Louis - Downtown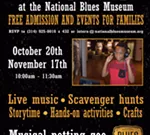 Through Nov. 18
618-589-1111
szfairviewheights@skyzone.com
Children's Events, Pop Culture
@ Sky Zone Fairview Heights, 10850 Lincoln Trail, Fairview Heights, IL 62208
Starting Monday, October 22nd, you can step into a magical world of dueling wizards, epic battles, and everyone's favorite magical, Sky-High sport: Wizardball! Enjoy an ice cold bottle of butterbrew and a cocoa-toad before taking to the Wizardball pitch. And if you're up to the challenge, gather five of your friends and register for our Wizardball Tournament on Saturday, November 17th (registration opens on October 22). There will be adult and child leagues. Winners receive a cash prize. Standard pricing applies
https://www.skyzone.com/fairviewheights/programs/sky-zone-school-of-wizardcraft-and-witchery
Showing 1-2 of 2 total results in this search.