Literary Events Search – Tickets Available
3 total results
Sat., Sept. 22, 2-4 p.m.
314-968-4491
info@bookhousestl.com
Children's Events, Free Events, Literary Events
Join us on September 22nd at 2 pm as author Pat Wahler reads "Midnight the One-Eyed Cat" "Because she is different, Midnight the one-eyed cat is bullied by other cats. Heartbroken, she runs home in tears. Now it's up to her most unlikely friend, Starlight the three-legged rat to come up with a plan to help Midnight regain her spirit. This charming story of a sweet cat who learns to overcome her fears, build her confidence, and find she's okay just as she is, takes children on an inspiring journey into the power of friendship and love." Free
http://www.bookhousestl.com/
The Book House
(map)
7352 Manchester Rd
Maplewood
314-968-4491
Fri., Sept. 28, 6:30 p.m.
Literary Events
Join St. Louis on the Air host Don Marsh and SLUCare geriatrician Dr. John Morley for a conversation about Don's new book "Coming of Age, Liver Spots and All: A Humorous Look at the Wonders of Getting Old." A reception and book signing will follow. Left Bank Books will have books of available for purchase. Free
https://secure-kwmu.umsl.edu/alleg/WebModule/Survey.aspx?P=MARSHBOOK&PAGETYPE=SUR&CHECK=UHHvBA9OjKm9LR3SzW4vwophv9KzVnZJsXyuwr7dYn4%3d
UMSL at Grand Center
(map)
3651 Olive St
St. Louis - Grand Center
Thu., Oct. 18, 7 p.m.
314-367-6731
info@left-bank.com
Literary Events, Women's Events
Join Left Bank Books for a Feminist's Night Out with bestselling author of "All the Single Ladies" Rebecca Traister, who will sign and discuss her new book, "Good and Mad: The Revolutionary Power of Women's Anger"! Ticket Information: -- A $30 ticket admits one person and includes one hardcover copy of "Good and Mad" -- A $35 ticket admits two people and includes one hardcover copy of "Good and Mad," plus a $5 rebate towards the purchase of a second copy at the event Tickets at left-bank.com/traister. With eloquence and fervor, Rebecca Traister tracks the history of female anger. $30/$35
https://www.left-bank.com/traister
Foam Coffee & Beer
(map)
3359 Jefferson Ave.
St. Louis - South City
314-772-2100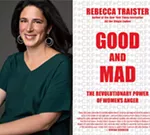 Showing 1-3 of 3 total results in this search.