Nature Search – User Submitted
1 total results
Mon., Nov. 12, 6-7:30 p.m.
314-577-9442
recordsh@missouri.edu
Classes and Seminars, Nature
Join Missouri Botanical Garden Horticulture Supervisor & Pruning Expert, Ben Chu, to learn about Pruning Shrubs in the Landscape. - Learn the different types of pruning - Learn to rehabilitate poorly managed shrubs - Learn to hand prune shrubs for a quality, long lasting shrub in the landscape. Sponsored by the Ferguson Brewing Co., Ferguson Farmers Market & the University of Missouri Extension. Free and open to the public (suggested donation $5)
Ferguson Brewing Company
(map)
418 S. Florissant Road
Ferguson
314-521-2220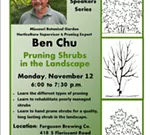 Showing 1-1 of 1 total results in this search.