Volunteer Opportunitites Search – User Submitted
1 total results
Tue., Nov. 27, 5:30-7:30 p.m.
314-726-5355
sunny.schaefer@operationfoodsearch.org
Volunteer Opportunitites
Operation Food Search (OFS), a non-profit hunger relief organization, will host its holiday Rap 'N Pack. The cost is $10 in advance and $12 at the door. Rap 'N Pack is held in conjunction with #GivingTuesday, a global day of giving celebrated on the Tuesday following Thanksgiving. Participants ages 21 years of age and older will sort winter coats, as well as help pack food for food insecure children and their families this holiday season.Volunteers will enjoy upbeat music, appetizers, and adult beverages. $10 in advance and $12 at door
http://www.operationfoodsearch.org
Operation Food Search
(map)
1644 Lotsie Blvd.
Olivette/ Overland
314-726-5355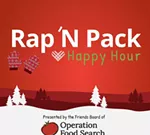 Showing 1-1 of 1 total results in this search.