Tours Search – Tickets Available
2 total results
Saturdays, 10 a.m.-12 p.m. Continues through Oct. 27
314-690-3140
http://landmarkstours-stl.org
Tours
St. Louis' fascinating history & architecture is featured in a walk around downtown led by experienced volunteer guides from Landmarks Assn. From the bustling riverfront of the French-American entrepreneurs to the skyscrapers of the 20th century, find famous architectural & engineering marvels. Old Courthouse & Cathedral, Gateway Arch, Eads Bridge, Old Post Office, Wainwright Bldg, Philip Johnson-designed bldg. Rain or shine. Advance tickets & group tours: landmarkstours-stl.org $10 per person, children 12 and under are free
http://landmarkstours-stl.org
Old Courthouse
(map)
11 N. Fourth St.
St. Louis - Downtown
314-655-1700
Saturdays, 10 a.m.-12 p.m. Continues through Oct. 27
314-690-3140
Tour-schedule@landmarkstours-stl.org
Tours
St. Louis' fascinating history and groundbreaking architecture is featured in a walk around downtown led by experienced volunteer guides from Landmarks Assn. Explore St. Louis' grandest public buildings, testament to the ambitions of the City during the 19th and early 20th centuries. Union Station, Soldiers Memorial, Peabody Opera House, City Hall, Central Library, Campbell House Museum. Rain or shine. Advance tickets & group tours contact landmarkstours-stl.org $10 per person. Children 12 and under are free
http://landmarkstours-stl.org
St. Louis Union Station Hotel
(map)
1820 Market St
St. Louis - Downtown
314-231-1234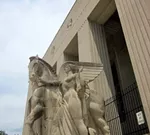 Showing 1-2 of 2 total results in this search.