Black History Month Search
3 total results
Fri., Feb. 1, 7:30-9:30 p.m.
Opera, Black History Month
OTSL is partnering with Left Bank Books and Saint Louis University Library Associates to host a reading group discussion of Fire Shut Up in My Bones, New York Times columnist Charles Blow's memoir. Kasi Lemmons was commissioned by Opera Theatre of Saint Louis to transform Blow's powerful memoir into the libretto for our 2019 world premiere opera Fire Shut Up in My Bones. She will help lead the reading group discussion at Saint Louis University's DuBourg Hall, which will be moderated by Jonathan Smith, Vice President for Diversity and Community Engagement at SLU. Free
St. Louis University-DuBourg Hall
(map)
221 N. Grand Blvd.
St. Louis - Midtown
800-872-2657
Sat., Feb. 2, 2-5 p.m.
765-993-4977
peaceweavingwholeness@gmail.com
Black History Month
Discussion of Black History as the story is told through through quilting. The workshop will be facilitated by Master quilter, Edna Patterson-Petty. She will share samples of her quilts. Participants will have an opportunity to make their own story squares, must be at least 10 years if age, and be accompanied by an adult. All supplies will be furnished and participants will receive a copy of Edna's book, FABRICS WORK: My Creative Journey. Event sponsored by PEACE Weaving Wholeness in collaboration with Zuka Art Gallery, Zuka Arts Guild, and support from the Missouri Humanities Council. $25
Sat., Jan. 19, 10 a.m.
Black History Month
The Fountain Park neighborhood is home to one of the oldest statues of the Rev. Dr. Martin Luther King Jr. in the metro area. Rev. King is in a dramatic pose, right arm outstretched as he preaches to the world, his church vestments billowing out behind him. Erected in 1978, the statue received much-needed refurbishment in the summer of 2018 and now stands tall and proud once again to welcome the celebrants of this year's Martin Luther King Jr. Day observance. At 10 a.m. Saturday, January 19, community leaders from Centennial Christian Church, Alpha Phi Alpha Fraternity, and community and civic leaders will participate in a peace walk that starts adjacent to the statue at 4950 Fountain Avenue, with the Jennings Warrior Marching Band leading the one-mile march. Following the walk, there will be a panel discussion in the Centennial Christian Church sanctuary on the theme of "Living the Dream: Dismantling Injustices in Community, Education & Literacy." A book-bag-and-school-supply giveaway follows the discussion. Admission is free to all. free admission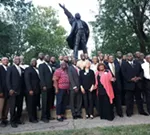 Showing 1-3 of 3 total results in this search.