Black History Month Search
2 total results
Wednesdays-Sundays. Continues through Jan. 31, 2020
Black History Month, Museum Exhibits and Events
Dred Scott was a slave who'd been taken from Missouri, a slave state, to Illinois, a free one. Yet he remained in bondage. In 1846 Scott sued for freedom from enslavement for himself and his wife Harriet, arguing that his two years of residing in a free state should make him a citizen under the doctrine of "once free, always free." The case was fought in various courts from 1846 to 1857, with victories and setbacks along the way. After the Scotts' patron could no longer pay their legal fees, St. Louis attorney Roswell Field took the case pro bono and continued the fight to win the Scotts' freedom. It was an unpopular cause in Missouri, but the Scotts' eventual defeat helped further stiffen the spine of the abolitionist cause. Roswell Field's home is now the Field House Museum, which opens its new exhibition, Foundations of Freedom, in honor of Black History Month. The exhibit tells the story of the Scotts' long legal struggle, other freedom suits and the national conversation about the legality of slavery in the nineteenth century. Foundations of Freedom opens Saturday, February 2, at the Field House Museum (634 South Broadway; www.eugenefieldhouse.org). It remains on display through January 31, 2020, and the museum is open Wednesday through Sunday. Admission is $5 to $10. $5-$10
Field House Museum
(map)
634 S. Broadway
St. Louis - Downtown
314-421-4689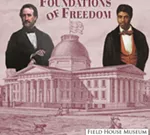 Thu., Feb. 28, 6:30-7:30 p.m.
636 221 1524
missourigermans@gmail.com
Black History Month, Free Events
In honor of Black History Month, the Maplewood Public Library will present a program event on Thursday, February 28, 2019 @ 6:30-7:30pm at Maplewood City Hall about one of Missouri's very own hometown American Heros whose courage & bravery helped turn the tide of the Civil War in the struggle for freedom and equality in one of the Nation's key battles, while still a slave to Confederate secessionist sympathizers. Archer Alexander, (1810-1879) was immortalized as the ex-Slave kneeling at the foot of Abraham Lincoln, at the Lincoln Emancipation Memorial Statue, in Lincoln Park, near the U.S. Capitol. free
Showing 1-2 of 2 total results in this search.