Museum Exhibits and Events Tomorrow
3 total results
Through June 2
Museum Exhibits and Events
The Muny is just about to open its landmark 100th season, and its neighbor, the Missouri History Museum (Lindell Boulevard and DeBalivere Avenue; www.mohistory.org), celebrates the occasion with an exhibit dedicated to the history of America's largest outdoor theater. Muny Memories: 100 Years on Stage features exhibits that explain the founding of the theater, display favorite memories from stars and staff, and give a look back stage to see how the dedicated technical crew creates and rigs all those sets and lights. You can also take a look at programs from the Muny's long, storied past. Muny Memories opens on Saturday, June 9, and remains on display daily through June 2, 2019. Admission is free. free admission
Missouri History Museum
(map)
Lindell Blvd. & DeBaliviere Ave.
St. Louis - Forest Park
314-746-4599
Wednesdays-Sundays, 9 a.m.-2 p.m. Continues through June 30
314-416-8004
jbtelmuseum@yahoo.com
Museum Exhibits and Events
@ Jefferson Barracks Telephone Museum, 12 Hancock Ave, St Louis MO 63125
To commemorate the upcoming 75th anniversary of D-Day, the Jefferson Barracks Telephone Museum has created an exhibit featuring telephones used by military personnel. Housed in a restored 1896 building, the museum also features an extensive collection of telephones from the early 1900s through the 2000s, hundreds of pieces of telephone-related equipment, memorabilia from 1880s through the 2000s, a wide variety of novelty telephones and much more. It is located in the Jefferson Barracks Park, a 15-minute drive south of downtown. The Jefferson Barracks Telephone Museum has many hands-on, how-things-work exhibits created to inspire an interest in engineering and history. Adults $5; Seniors $4; Children Ages 5-12 $3
http://www.jbtelmuseum.org
Wednesdays-Sundays. Continues through Jan. 31, 2020
Black History Month, Museum Exhibits and Events
Dred Scott was a slave who'd been taken from Missouri, a slave state, to Illinois, a free one. Yet he remained in bondage. In 1846 Scott sued for freedom from enslavement for himself and his wife Harriet, arguing that his two years of residing in a free state should make him a citizen under the doctrine of "once free, always free." The case was fought in various courts from 1846 to 1857, with victories and setbacks along the way. After the Scotts' patron could no longer pay their legal fees, St. Louis attorney Roswell Field took the case pro bono and continued the fight to win the Scotts' freedom. It was an unpopular cause in Missouri, but the Scotts' eventual defeat helped further stiffen the spine of the abolitionist cause. Roswell Field's home is now the Field House Museum, which opens its new exhibition, Foundations of Freedom, in honor of Black History Month. The exhibit tells the story of the Scotts' long legal struggle, other freedom suits and the national conversation about the legality of slavery in the nineteenth century. Foundations of Freedom opens Saturday, February 2, at the Field House Museum (634 South Broadway; www.eugenefieldhouse.org). It remains on display through January 31, 2020, and the museum is open Wednesday through Sunday. Admission is $5 to $10. $5-$10
Field House Museum
(map)
634 S. Broadway
St. Louis - Downtown
314-421-4689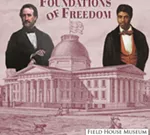 Showing 1-3 of 3 total results in this search.