Open Mic / Karaoke Search
3 total results
1860 Saloon, Game Room & Hardshell Cafe
(map)
1860 S. Ninth St.
St. Louis - Soulard
314-231-1860
Tuesdays, Thursdays, 10 p.m.-2 a.m.
314-371-1333
rjentertainment@rji-inc.com
Open Mic / Karaoke
Come join us every Tuesday and Thursday night, on stage, at Just John nightclub. This is a karaoke night that truly feels like an event. Premium sound and video monitors throughout the club. Sing like a celebrity! No cover charges. Hosted by RJ Entertainment, the hardest working show in town. Free
http://www.justjohnclub.com
Just John's Club
(map)
4112 Manchester Ave.
St. Louis - Forest Park Southeast
314-371-1333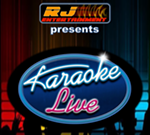 Every fourth Wednesday, 8 p.m.-12 a.m. Continues through Aug. 22
314-932-7003
Performing Arts, Open Mic / Karaoke
Join us on the 4th Wednesday of every month for our newest Burlesque Game Show: Burlyeoke where you sing while we strip. - It's karaoke time from 8-9:30pm! - Around 9:30 we'll randomly select a name/song and draw a performer's name - Then improv hilarity ensues -- you sing while we dance $5
https://www.facebook.com/events/2040510789497024/
The Monocle
(map)
4510 Manchester Ave
St. Louis - The Grove
314-935-7003
Showing 1-3 of 3 total results in this search.