This Just In This Weekend
1 total results
Fri., Nov. 16, 8 p.m.
314-775-0775
Live Music, This Just In, Music Guide
Cycles Friday November 16 Atomic Cowboy Pavilion & The Bootleg St. Louis, MO $7 ADV // $10 Day Of Doors 8pm // Show 9pm 21+ Cycles epitomize the power-trio format with ripping guitar, fat bass grooves played out through furious slapping, and dynamic drum beats flowing over intricate tempo changes. Each member wields a unique take on their instrument that when played together, forms a truly fresh and cohesive sound. $7 ADV // $10 Day Of
https://www.facebook.com/events/283619322250423/
The Bootleg
(map)
4140 Manchester Ave.
St. Louis - The Grove
314-775-0775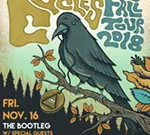 Showing 1-1 of 1 total results in this search.