Promotional Event Search – Image
3 total results
Sat., Jan. 26, 11 a.m.-2 p.m.
Promotional Event
United We Brunch:
There's no better way to chase away a hangover than brunch with friends!
Riverfront Times is once again bringing together the best restaurants in town with one mission: unite to cure St. Louis' hangover. In its 4th year, United We Brunch will be more than just bottomless Bloody Marys and Mimosas — enjoy screwdrivers, bellinis, Irish coffee, beer and more! Plus, all the best brunch hot spots in the St. Louis area under one roof. Don't miss it!
https://rftbrunch.com/
Chase Park Plaza
(map)
212 N. Kingshighway Blvd.
St. Louis - Central West End
314-633-3000
Sat., March 23, 11:30 a.m.-3 p.m.
Promotional Event
Mac N Cheese Throwdown:
EVERYONE'S FAVORITE, MAC & CHEESE THROWDOWN, RETURNS FOR YEAR #3!
St. Louis, the gloves are off as the city's most talened chefs go head-to-head in a MELTY-CHEESY-SMACKDOWN of epic proportions! YOU decide who will be named the MAC & CHEESE CHAMPION of Greater St. Louis. Can Salt + Smoke defend its title?! Join us on Saturday, March 23, 2019 for the 3rd Annual Mac & Cheese Throwdown STL and get your taste on! This event has sold out every year so don't wait to get your tickets. Get your tickets today to the only Mac & Cheese event in greater St. Louis!!
http://RFTMacNCheese.com
St. Louis Union Station
(map)
1820 Market St.
St. Louis - Downtown
314-421-6655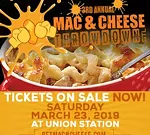 Wed., May 8
Promotional Event
IRON FORK RETURNS FOR ITS 12TH YEAR!
Forty restaurants. Five famous chefs. One night of excitement! It's the biggest food night of the year — and one hell of a party. Indulge in decadent food, hand-crafted cocktails, and all the heart-pounding drama of our signature Iron Fork competition. And don't miss the VIP tasting section with bottomless drinks.
Showing 1-3 of 3 total results in this search.