Promotional Event Search – Tickets Available
2 total results
Sat., June 16, 3 p.m.-12 a.m. and Sun., June 17, 4 p.m.-12 a.m.
Promotional Event
ShowcaseSTL 2018 returns to The Grove for the fifth year in a row and this time for TWO days! Saturday, June 16 and Sunday, June 17.

Last year was a great success with a Friday night kick-off that we decided to add a whole second day to the best all-local music festival in Missouri.

Purchase 1-day or 2-day festival passes and enjoy all that this year's ShowcaseSTL has to offer. $15
https://rftshowcase.com/
The Grove
(map)
Manchester Ave. between Sarah St and Kentucky Ave
St. Louis - Tower Grove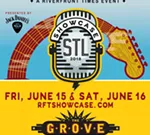 Sun., Nov. 4, 11 a.m.-2:30 p.m.
Promotional Event
Celebrate your favorite briny bivalves at Riverfront Times' 2nd Annual Shuck Yeah! on Sunday, November 4th from 11am-2:30pm. This party on the patio will bring together oysters from across the country for a celebration of all-things-oyster and other bites from your favorite local restaurants at Mollys in Soulard. Plus enjoy craft cocktails and beer from our sponsors and live music
http://rftshuckyeah.com/
Molly's in Soulard
(map)
816 Geyer Ave.
St. Louis - Soulard
314-241-6200
Showing 1-2 of 2 total results in this search.