Promotional Event Search – Tickets Available
2 total results
Thu., Aug. 2, 7:30-10:30 p.m.
Promotional Event
Regardless of how you spell it (both whisky and whiskey are technically correct, by the way) or how you've enjoyed it in the past (neat, dirty, on the rocks, straight or mixed), the best way to enjoy whiskey is to savor it – the way you might a good wine.

Riverftont Times wants to take your taste buds on an exploration of wheat and rye at an exciting new event – Whiskey Business.
~Featuring dozens of whiskies from the United States and around the world
~Selection of single malt, blended scotches, Irish, Bourbon, Tennessee & Canadian whiskies

~Perfect for whiskey aficionados and novices alike
Tickets include unlimited whiskey tastings, hand passed hors d'oeuvres and entertainment. Treat yourself to VIP and also receive one hour early access, valet parking and VIP gift bag. Limited availability.

THE MCPHERSON IN THE CENTRAL WEST END 6:30pm VIP & 7:30pm GA till 10:30pm $40 advance - $55 door; VIP $50 in advance
https://rftwhiskey.com/
The McPherson
(map)
4715 McPherson Ave
St. Louis - Central West End
314-713-9922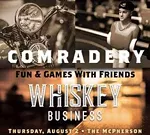 Sun., Nov. 4, 11 a.m.-2:30 p.m.
Promotional Event
Celebrate your favorite briny bivalves at Riverfront Times' 2nd Annual Shuck Yeah! on Sunday, November 4th from 11am-2:30pm. This party on the patio will bring together oysters from across the country for a celebration of all-things-oyster and other bites from your favorite local restaurants at Mollys in Soulard. Plus enjoy craft cocktails and beer from our sponsors and live music
http://rftshuckyeah.com/
Molly's in Soulard
(map)
816 Geyer Ave.
St. Louis - Soulard
314-241-6200
Showing 1-2 of 2 total results in this search.