Sports - Participatory Search
1 total results
Sat., Oct. 20, 8-11 a.m.
636.532.3399
info@chesterfieldmochamber.com
Sports - Participatory, Halloween
The Chesterfield Chamber of Commerce is proud to announce its 17th Annual Gumbo Flats Pumpkin Run. We are so excited about this event and are currently expecting over 2,000 participants and spectators. The Pumpkin Run offers a 5k, 10k route and Children's Fun Run that will be fun for the whole family. 5K $25 prior to Oct.1, $30 Oct. 1 - 19, $35 Race Day 10K $30 prior to Oct. 1, $35 Oct. 1 - 19, $40 Race Day Children's Fun Run (10 and under) $15 through Race Day Registrations prior to Oct. 1 will receive shirt in requested size. $25-$40
https://www.chesterfieldmochamber.com/events/details/gumbo-flats-pumpkin-run-2018-5143229
Chesterfield Commons
(map)
Edison Ave. and Baxter Road
Chesterfield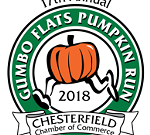 Showing 1-1 of 1 total results in this search.