Sports - Participatory Search
3 total results
Thu., Sept. 27, 5-10 p.m.
Sports - Participatory
The Biz Dash 5K presented by World Wide Technology returns to Downtown St. Louis at Soldiers Memorial on Thursday, September 27, 2018! Promote health and wellness in the workplace while building team camaraderie, or just use it as an excuse to head outside for a fun night with friends and colleagues after work. You can be a lunchroom legend in your office by beating that industry rival across town. Or, this may be your opportunity to show the boss who's really in charge by crossing the finish line first. All levels of runners and walkers are encouraged to participate.
https://stlsports.org/special-event/2018-biz-dash-5k/
Soldiers Memorial Plaza
(map)
14th St. and Chestnut St.
St. Louis - Downtown
Sat., Nov. 10, 8:30 a.m.-1 p.m.
314-802-5418
mkloppenberg@stpatrickcenter.org
Benefits, Sports - Participatory
Registration is now open! The Veterans Day 5K, presented by The Gatesworth, includes a timed 5K, One-Mile Fun-Run and free Kids' Dash. It is a family-friendly event to honor and celebrate those who have served and are serving our country. 20% of St. Patrick Center's clients are veterans and proceeds from the event benefit these clients and their families. Soldiers Memorial will re-open on November 3 after a $30 million renovation. Veterans Day 5K attendees will have the opportunity to explore the museum and enjoy many fun-filled activities throughout the day. $30
http://stpatrickcenter.org/vet5k/
Soldiers Memorial Plaza
(map)
14th St. and Chestnut St.
St. Louis - Downtown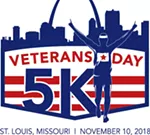 Sat., Feb. 9, 7-11 a.m.
314-862-1188
mike@bigshark.com
Sports - Participatory
The perfect pairing for all runners and walkers is set for February 10th…Run for the Chocolate! This fun 5K run/walk returns to the the historic streets of St. Louis to spice up Valentine's weekend for couples and singles alike. The race will be a chocolate extravaganza complete with customized chocolate finisher medals, chocolate goody bags and water stops and over 125 gallons of hot cocoa from St. Louis' premier chocolatier, Bissingers. This race is its own little Valentine's Day getaway for runners and walkers! $30-$120 Enter as an individual or as a team!
http://runforthechocolate.com/
Bissinger's Chocolate Shoppe
(map)
1600 N. Broadway
St. Louis - Downtown
314-615-2400
Showing 1-3 of 3 total results in this search.