Expos & Special Exhibitions Search
1 total results
Sat., Oct. 13, 10 a.m.-4 p.m. and Sun., Oct. 14, 10 a.m.-3 p.m.
636-225-2405
mvns@railfan.net
Expos & Special Exhibitions, Free Events
All scales, swap tables, great prices, operating layouts, free parking, great door prizes. Family fun! Don't miss this show! $7, kids and students with ID are free
http://www.seetrains.com
Kirkwood Community Center
(map)
111 S. Geyer Road
Kirkwood
314-822-5855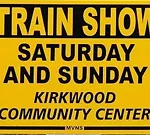 Showing 1-1 of 1 total results in this search.