Expos & Special Exhibitions Search
2 total results
Sun., Aug. 26, 2-5 p.m.
636-745-9500
rochelle@brandveinpr.com
Expos & Special Exhibitions, Women's Events
Cedar Lake Cellars, a winery and event center, will host "Before the Vows: An Interactive Wedding Show". The show is open to those 21 years of age and older. The hands-on event will allow guests to actually experience an event from beginning to end. The winery's Big Red Barn will be transformed into a dream wedding environment that includes a staged ceremony complete with seating, DJ music entertainment, food and drink samples. There will be a variety of vendors, a runway fashion show, experiential demonstrations for do-it-yourself wedding crafts, and on-site hair and makeup presentations. Tickets are $10 until July 13 and then cost $15 per person
http://www.cedarlakecellars.com
Cedar Lake Cellars
(map)
11008 Schreckengast Road
Outstate MO
636-745-9500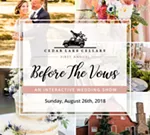 Fri., Oct. 12, 3 p.m.-12 a.m. and Sat., Oct. 13, 4 p.m.-12 a.m.
tickets@globalhack.org
Expos & Special Exhibitions
Join us for a weekend of hacking, innovating and networking with peers and industry leaders who are changing the way we look at the foreign-born experience. $30-$150
https://globalhack.org/globalhack7/
Chaifetz Arena
(map)
1 S. Compton Ave.
St. Louis - Midtown
314-977-5000
Showing 1-2 of 2 total results in this search.